Squid Launcher 2017 Cabrinha Surfboard
| | |
| --- | --- |
| Brand: | Cabrinha |
| Product Code: | Squid Launcher 2017 Cabrinha |
| Availability: | In Stock |
Price: 998.99€
×
*

Name:

*

Email:
Telephone:
Message
0 reviews
&nbsp
Write a review
Model: Squid Launcher 2017 Cabrinha Surf-board
Type: Freestyle Surf

Sizes:
5'2" x 20.7" x 1.98" - 23.4L
5'5" x 21.0" x 2.18" - 26.9L

Information:
The Squid Launcher dominates the surf freestyle segment of our line with its hugely versatile design. The Squid Launcher is a stealthy little creature that thrives on flat water lakes as well as it does in the ocean.
The Squid Launcher is a freestyle surf skate design made for the new era of strapless trick riding. The short and wide outline takes you from zero to planing in an instant. The same combination of length and width is perfect for taking your skate style air game into the surf.
The Squid Launcher has a quad fin, swallow tail for a perfect track and release.

Features:
» Includes four (4) RTM fins, deck pod pads & mounting hardware
» Incredibly lively under your feet
» Excellent light wind performance
» Great for strapless tricks
» Short and wide outline
» Easy to plane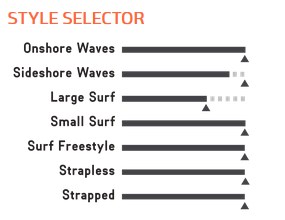 Squid Launcher Cabrinha 2017 - Freestyle surf skate inspired design. Excellent for strapless aerial tricks.
Write a review
Note: HTML is not translated!
Bad
Good