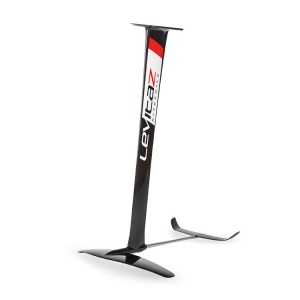 Element Levitaz 2017 Hydrofoil
| | |
| --- | --- |
| Brand: | Levitaz |
| Product Code: | Element Levitaz Hydrofoil |
| Availability: | In Stock |
Price: 1,998.99€
0 reviews
&nbsp
Write a review
Model: Element Levitaz 2017 Hydrofoil
Type: Freeride | Wave | Freestyle
Sizes: 96cm [Plate Mount or Deep Tuttle Box]


Plate Mount mast can be attached to any board that has 4 bolt threads.
Deep Tuttle Box mast can be attached to any board that has deep tuttle box.


Information:
The Levitaz Element is the classic freeride foil. High maneuverability is one of its key features. Even smallest turns can be maneuvered without loss of speed. Due to the low drag of the foil, the Levitaz Element proves astonishingly upwind abilities. The balance between accessibility, stability and maneuverability makes it the perfect all-rounder for intermediate foilers.
Levitaz Kitefoils grow with your skills and your personal challenges! No matter which conditions you are facing, be prepared and enjoy your perfect day on the water.

Materials: composite, steel
Weight: 3.9kg
Dimensions: 70 x 50 x 105cm

Features:
» Completely dismountable, compact storage – very handy for air journey
» Extremely resistant connection system
» Upgrade to Aspect wing is possible
» Top Quality – Made in Austria
» Ideal for "Rookies"
» Freeride foil
» Wide lift-surface
» Low take-off speed


Delivery: Every hydrofoil comes with a resilient carrier bag and a protective cover set, specifically designed to hold the Levitaz kitefoil.
Write a review
Note: HTML is not translated!
Bad
Good