Neil Pryde Wetsuit 3K Series 5/3 2011 Men
| | |
| --- | --- |
| Brand: | Neilpryde |
| Product Code: | 3K Series 5/3 2011 Men |
| Availability: | Out Of Stock |
0 reviews
&nbsp
Write a review
Model: (5/3) Neil Pryde Wetsuit 3000 Series 2011

Information:
The 3000 pares down windsurfing performance wetsuits to the core: offering only what's most important. The 3000 is the perfect combination of highly flexible single line neoprenes ideal for windsurfing.
The 3K Series has a combination of three materials designed to provide the 3K with the warmth, stretch and comfort it's marketed as having.

Features:
- Hotcell - Lightweight, quick drying polypropylene insulation. The cellular structure traps an insulating layer of warm water next to the skin, keeping the core temperature up.
- Apex-Mesh neoprene is a sheet of neoprene that is heat sealed on one side only. The neoprene on the sealed side is called 'closed cell' neoprene and has a waterproof rubbery texture that cuts down wind-chill, making it popular among windsurfers and kitesurfers. The unsealed side is called open celled neoprene as the air bubbles, thus allowing water to soak through. This side is then laminated with a super-stretch jersey for maximum flexibility.
- Bamboo Charcoal - An ultra-lightweight inner lining comprised of a series of tubular, hollow yarns. The heatlock effectively traps and stores body heat within the cavity of the yarn, keeping you warmer and drier. An insulating, hollow fiber lining that effectively traps and reflects body heat.
- Anti-choke V-Neck - V-cut neck panel designed for maximum flexibility.
- SCS Wrist Seals -Super-soft 0.5 neoprene with a low friction, high contact coating. Provides the most comfortable and reliable neck and wrist seals.
- Reinforced Crotch - A durable layer of latex reinforcement that resists harness wear.
- Latex Embossed Knee Pads - Durable and flexible latex knee pads that shed water and prevent wind-chill.
- GBL Seams - An efficient, water-tight seam created through a triple gluing process in conjunction with a blind stitch that does not fully penetrate the rubber. The technique allows precise curved seams and facilitates a snug, anatomically correct fit.
- E3 Entry - The E3 entry system is comprised of a pull-over bib that forms a water-tight neck seal and prevents water from entering through the back.
- FLX - Flex Zone- High stretch Forward and Lateral Extension panels allow natural, unrestricted movement.
- Adjustable Ankle Closure, Adjustable Velcro closures for improved comfort and fit.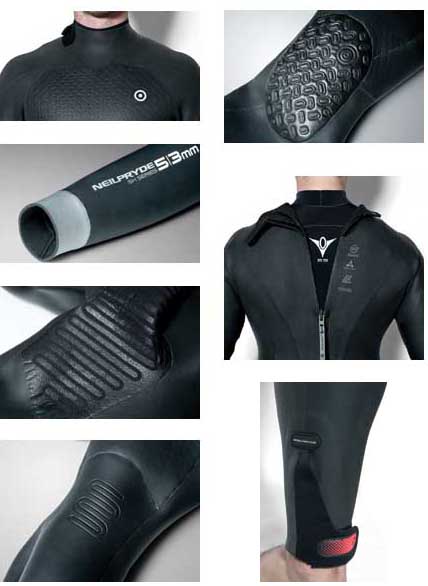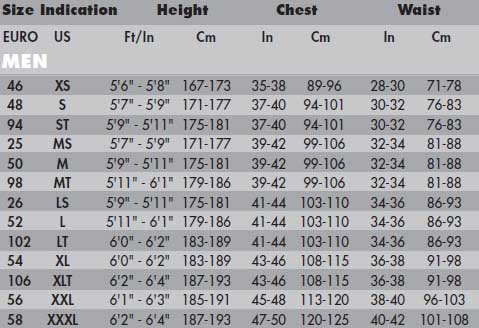 Write a review
Note: HTML is not translated!
Bad
Good