5th Element 2015 North Kiteboarding Trust Bar
| | |
| --- | --- |
| Brand: | North Kiteboarding |
| Product Code: | Trust Bar - 5th Element 2015 |
| Availability: | Out Of Stock |
0 reviews
&nbsp
Write a review
Model: North Kiteboarding Trust Bar - 5th Element 2015
Type: 5 lines

Features:
- Eva cushioned winding post with flip-flop function for easy width adjustment
- Vario cleat and sliding stopper for easy height adjustment
- Integrated backline adjuster to trim rear lines
- Fully integrated EVA floater to protect lines and rider
- Exchangeable plastic center part insert
- Moulded EVA floater for safety leash prevents line tangling

The North Kiteboarding Trust Bar is the most progressive and effective tool to steer your kite and comes equipped with the most functional safety system in kiting, the Iron Heart IV. Over the years it has made a name for itself in the kitesurfing industry and amongst the riders; it stands for unmatched safety and reliability.
LINE LENGTH ADVISOR
Two years ago we introduced different line length ranging from 19 to 27 metres as the length of the flying lines can make a huge difference to the way the kite flies. Different styles of riding, different kite models or the kite size can be influencing factors that require different line length. In order to further increase this synergy effect the 19 and 22m lines come on a medium bar (49/42cm) and the 24 and 27m lines on a large bar (53/46cm). The bar is the riders' first point of contact with the kite. In order to achieve a maximum comfort when riding it is essential to match the kite

19m (70% Handling / 30% Power)
Super fast and reactive turning speeds, shorter lines are best for extreme freestyle and crazy kite loops. They are also excellent for wave riding, where the kites turning speed is important. Wakestyle riders enjoy the close connection to the kite too. The disadvantage is you lose some of the low-end power.
› Fast and reactive turning
› For extreme Freestyle, Wakestyle and Waves
› Tight, super fast and hard kite loops
› Narrower bar width

22m (60% Handling / 40% Power)
The favourite length of our freestyle and wave team riders. The 22m lines are still great for getting lots of speed from the kite, perfect for wave riding and freestyle. Not as extreme as the 19m lines, they still lose a bit of low-end power.
› Reactive turning
› Fast kite loops
› Favourite set up of our freestyle riders
› Best choice for waveriding
› Narrower bar width

24m (50% Handling / 50% Power)
One bar fits all. The 24m lines are the best choice for an all round length, good turning speed combined with good power make 24m the perfect choice for a lot of riders. Great for freeride, waves and freestyle.
› The most versatile length
› Great for all round freeriding
› Good low end and a good turning speed
› High jumps as you can "load" the lines
› The recommended size for a one bar quiver!

27m (40% Handling / 60% Power)
The extra length means extra power, you get a little more range out of your quiver by adding this bar with the longer lines. They are also great for jumping as you can really "load" the lines when you edge and send the kite back through the window.
› Enormous low-end
› Huge jumps
› Lots of lift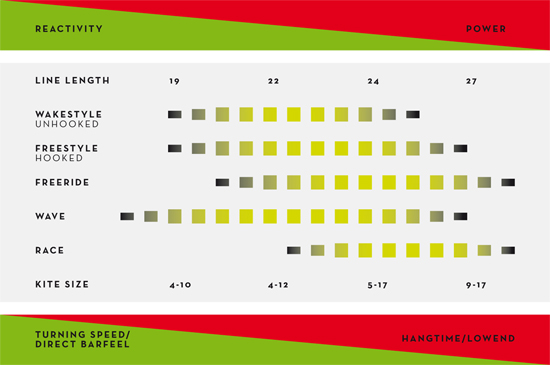 Write a review
Note: HTML is not translated!
Bad
Good