Vegas 2015 North Kiteboarding
0 reviews
&nbsp
Write a review
Model: North Kite Vegas 2015
Type: 5 lines, Freetyle

Information:
The Vegas has been completely reworked and redesigned for 2015, it is now even more freestyle orientated and hard-core than ever before! The kite has a more C-shaped arc this year combined with a deeper profile allowing it to sit further back in the window, delivering plenty of power. The wingtips have also been changed for 2015; they are squarer to offer even more direct feel and feedback for the rider. In addition to all of this, the most important feature of the Vegas, the power release delay, has been lengthened. This means that when you pop, the kite flies forward in the window and feels weightless in your hands, allowing you to perform your tricks with ease. With Aaron Hadlow on board there are different set-ups for 2015. The first two set ups are a mix of wakestyle and freestyle with the most comfortable settings for the rider in terms of bar pressure. The "Hadlow Set Up" has been tuned specifically for competition riding and Aaron himself; it features a special wakestyle bar connection system. The recommended Wakestyle Bar itself, already offers more slag and power release delay compared to the 5th line Trust Bar, in combination with the Hadlow Set Up is only recommended for absolute experts! Essentially the kite is very stable for performing tricks, but has a little less depower, only professionals need apply! The Vegas is the most refined freestyle kite on the market, and now it has the endorsement of one of the greatest kitesurfers of all time!

Features:
- most progressive Wake & freestyle kite
- wide range of use through 3 Bar & numerous trim options
- freestyle ability as last year but: massive improved wakestyle ability
- massive slack
The new Vegas covers every aspect you could ever look for a C-shape kite. Its new trim options allow you to totally change the kite for your riding style. What ever setting you decide, this kite has a fast, direct and driving turn for precision control. A new profile designed for the Vegas makes it pop and slack like never before.
-Arron Hadlow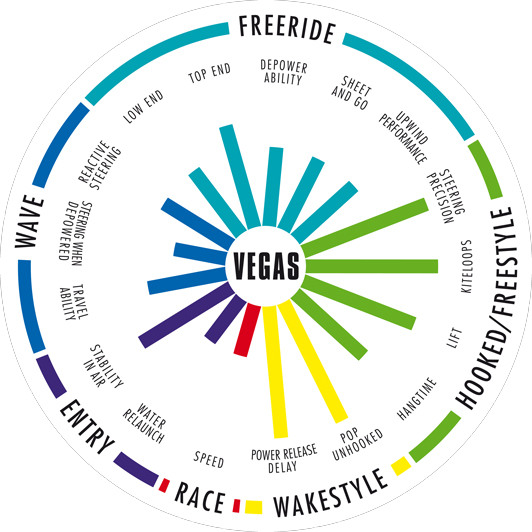 | | |
| --- | --- |
| Size(m2) | Windrange(knots) |
| 6 | 23-37 |
| 7 | 21-35 |
| 8 | 19-33 |
| 9 | 17-31 |
| 10 | 15-29 |
| 11 | 14-26 |
| 12 | 13-23 |
| 13 | 12-20 |
| 14.5 | 10-16 |
Write a review
Note: HTML is not translated!
Bad
Good