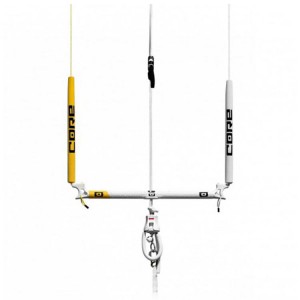 Sensor 2 Core Bar
| | |
| --- | --- |
| Brand: | Core |
| Product Code: | Sensor 2 Core Bar |
| Availability: | In Stock |
Price: 458.99€
0 reviews
&nbsp
Write a review
Model: Sensor 2 Core Bar
Type: 4-Line Bar

Information:
Your session's awesomeness depends heavily on your gear. We believe the Sensor 2 control bar system contributes much more than you would think to kite performance. And it's what you don't see that makes our bars so unbelievably good. The functional know-how we hide inside and the minimalist design on the outside gives our bars the signature CORE confidence you expect. And the safety features you rely on.
The Sensor 2 bar is now joined by the new Sensor 2S and Sensor 2S Pro. Two new bars with more tech wizardry that you can't even see at first glance. Regardless of your bar selection, The CORE Sensor 2 bar system will provide you with the lightest, safest, and most direct feeling bar on the market. Because we sell more than just cool bars. We sell confidence.
Meet the Sensor 2. This innovative bar is our go-to bar for all of our kites. R&D is a priority here at CORE. We work very hard to bring leading edge materials and ideas to control bar development while maintaining its functional simplicity and safety. One look at a CORE bar is all it takes to appreciate the quality, precision, and the technology. But the real magic remains hidden. Take for example a comfortable grip that needs a thin bar. To create an indestructible bar with the lightest, narrowest grip possible required thinking outside the box. Thinking that led to a titanium truss construction. Wearing thick gloves in 8C temps isn't a big deal with our Sensor 2 bar. The German engineered, titanium cored, Sensor 2 bar is: Simplicity in design. State-of-the-art in function. And absolutely safe. But if that's still not enough for you, we have the new Sensor 2S or Sensor 2S Pro.

Features:
» Supperted Single Fromtline Safety (SSF)
» Replaceable Bar Inserts
» Lines Made in Germany
» Core Loop / Stick Set
» 230g Unibody Bar
» Titanium Core
» Sensor Adjuster
» Rotor Quick Release
» Auto Untwist
» Spliced Ends
» Vario Width
» Short Safety Leash
Sensor 2 Core Bar - Ligth | Direct | Safe
Write a review
Note: HTML is not translated!
Bad
Good