5th Element 2017 North Kiteboarding Trust Bar
Price: 479.99€
0 reviews
&nbsp
Write a review
Model: North Kiteboarding TrustBar - 5th Element 2017
Type: 5 lines

Whether you're pushing the limits or taking those first steps into the sport, you need to know that your gear's got your back. Introducing the 2017 5th Element Trust Bar, a product where safety and control meet performance and reliability. Incorporating the patented Iron Heart IV safety system, its performance is unmatched. Relaunch, depower, release and recover, whatever your demands the 5th Element reacts instantly as well as having a phenomenal ability to absorb gusts, and deliver an outstanding short bar stroke when depowered. There's no task too big, wind too strong or safety situation that can't be effortlessly dealt with, and that's why riders across the globe look no further than the 5th Element bar.
Barfinder
Line Length Advisor

22m (60% Handling / 40% Power)
The favourite length of our freestyle and wave team riders. The 22m lines are still great for getting lots of speed from the kite, perfect for wave riding and freestyle. Not as extreme as the 19m lines, they still lose a bit of low-end power.
» Fast kite loops
» Reactive turning
» Best choice for waveriding
» Favourite set up of our freestyle riders
» Narrower bar width

24m (50% Handling / 50% Power)
One bar fits all. The 24m lines are the best choice for an all round length, good turning speed combined with good power make 24m the perfect choice for a lot of riders. Great for freeride, waves and freestyle.
» The most versatile length
» High jumps as you can "load" the lines
» Good low end and a good turning speed
» Great for all round freeriding
» The recommended size for a one bar quiver!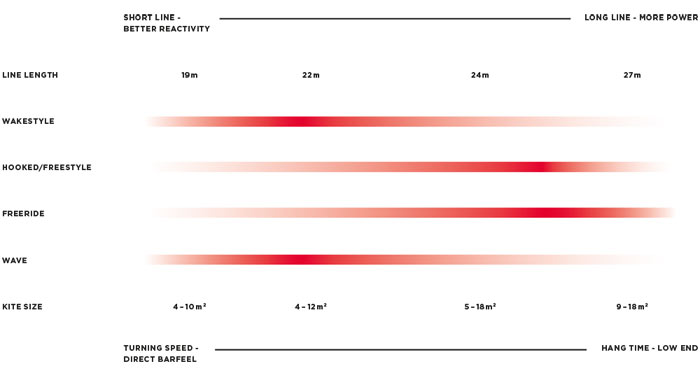 Trust Bar 2017 - North Kiteboarding Product Video
The North Kiteboarding Trust Bar is a progressive and effective tool to steer your kite.
Write a review
Note: HTML is not translated!
Bad
Good