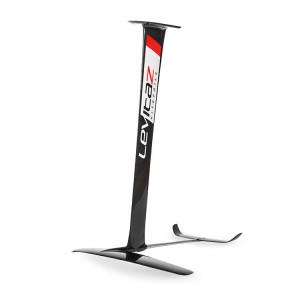 Cruizer Levitaz 2017 Hydrofoil
| | |
| --- | --- |
| Brand: | Levitaz |
| Product Code: | Cruizer Levitaz Hydrofoil |
| Availability: | In Stock |
Price: 1,998.99€
0 reviews
&nbsp
Write a review
Model: Cruizer Levitaz 2017 Hydrofoil
Type: Rookie | Strapless | Freeride
Sizes: 96cm [Plate Mount or Deep Tuttle Box]

Plate Mount mast can be attached to any board that has 4 bolt threads.
Deep Tuttle Box mast can be attached to any board that has deep tuttle box.


Information:
The Levitaz Cruizer 2017 is the perfect choice for your first steps on a hydrofoil. Requiring just a low take-off speed, the wide lift surface of the front wing makes it possible to start hovering early. Due to the modern hydrodynamic shape, the Cruizer is performing like a high performance foil. Riders who love to cruise, achievers or strapless riders, truly get their money´s worth.
Due to its very slim design, the Levitaz Cruizer has extremely little resistance under water. Complex flow simulations guarantee minimal drag and the best possible performance.

Materials: composite, steel
Weight: 3.7kg
Dimensions: 64 x 50 x 100cm



Delivery: Every hydrofoil comes with a resilient carrier bag and a protective cover set, specifically designed to hold the Levitaz kitefoil.
Write a review
Note: HTML is not translated!
Bad
Good