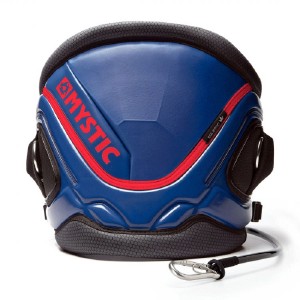 Majestic 2016 Mystic Waist Harness
| | |
| --- | --- |
| Brand: | Mystic |
| Product Code: | Majestic 2016 |
| Availability: | In Stock |
0 reviews
&nbsp
Write a review
Model: Majestic 2016 - Mystic Waist Harness
Color: Black | Navy | Dark Green

Information:
The Majestic harness from Mystic is a multi-use harness, meaning it can be used for both windsurfing and kitesurfing. The 2015 Mystic Majestic Harness is a range topping multi-use harness packed with some amazing features that only a company with the experience of Mystic could design.
The Majestic is a truly outstanding harness.

Features:
Soft neoprene edges»
The edges of the harness are made of folded neoprene. The double neoprene ensures high comfort and prevents any discomfort from the stiffer parts of the harness.
Memory foam back support»
The memory foam forms perfectly around your body making it the best fitting. Once you have used the harness it will adjust even more perfect to your body shape, providing you with even more support.
360 degrees pre-shaped back support»
The core of the Majestic Harness is an ergonomically shaped back support. The shape and design of the back support is the result of years of research and development on water. The aim was to design the best fitted back support, to create a harness that does not ride up during use. Strong polyester webbings are strategically placed on the back support to spread extreme loads evenly over the back support. This construction gives you the best back support ever.
Multi spreaderbar 3.0 – low torque»
The low torque fixation is specially designed by Mystic to prevent the spreader bar from any upward rotation. The low torque fixation is integrated in the side of the spreader bar. The combination with the clickerbar system makes it the fastest quick release system on the market. With the clicker bar it really does just take one click and your ready to ride! The clickerbar system is designed to withstand everything the extreme conditions can throw at it.
Knife included»
The Mystic safety knife is a small metal knife. The double blade construction makes it easy to cut your lines when it is necessary.

Key Features:
» 360 degrees pre-shaped back support
» 3D-moulded foam interior and exterior
» HP system detachable
» Covered side parts
» Double power leash ring
» Soft neoprene edges
» HP system included
» Memory foam back support
» Multi Spreader = Clickerbar 3.0 | Low torque fixation
» Spreader protector
» Battle belt waist closure
» Knife included
If you are looking to be the king of the castle when it comes to your harness choice, take a look at the Majestic - you won't be disappointed!
Write a review
Note: HTML is not translated!
Bad
Good