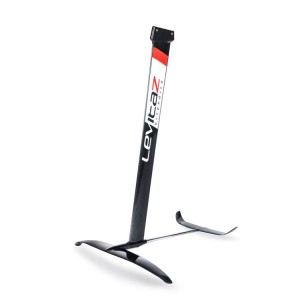 Aspect Levitaz 2017 Hydrofoil
| | |
| --- | --- |
| Brand: | Levitaz |
| Product Code: | Aspect Levitaz Hydrofoil |
| Availability: | In Stock |
Price: 1,988.99€
0 reviews
&nbsp
Write a review
Model: Aspect Levitaz 2017 Hydrofoil
Type: Freerace | Big Air
Sizes: 96cm | 104cm [Plate Mount or Deep Tuttle Box]


Plate Mount mast can be attached to any board that has 4 bolt threads.
Deep Tuttle Box mast can be attached to any board that has deep tuttle box.

Information:
The Levitaz Aspect 2017 is the freeracer in the Levitaz foil collection. For everyone who wants to enter in racing or loves long distance sessions, the Aspect offers the best performance. The high aspect ratio frontwing lowers water resistance and enables top speeds. The great controllability in high speeds is one of the strengths of the Aspect. Due to its unique features the Aspect provides amazing jumping possibilities. Advanced foilers will love the sportive performance of our Freerace Foil!

Dimensions: 70x 60 x105 cm (96 cm), 70x 60 x115 cm (104 cm)
Weight: 3.6 kg (96 cm), 4 kg (104 cm)
Materials: steel & composite

Features:
» Completely dismountable, compact storage – very handy for air journey
» Slim design and therefore extremely low turbulences
» Extremely resistant connection system
» Use of the Element wing is possible
» Excellent maneuverability
» For intermediate foilers
» Freeride/freerace foil
» Top quality – Made in Austria


Delivery: Every kitefoil comes with a resilient carrier bag and a protective cover set, specifically designed to hold the Levitaz kitefoil.
Write a review
Note: HTML is not translated!
Bad
Good