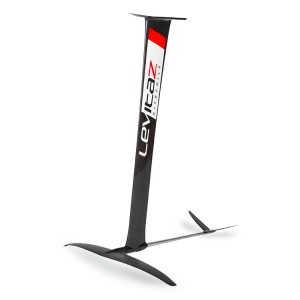 Bionic Levitaz 2017 Kitefoil
| | |
| --- | --- |
| Brand: | Levitaz |
| Product Code: | Bionic Levitaz Kitefoil |
| Availability: | In Stock |
Price: 2,248.99€
0 reviews
&nbsp
Write a review
Model: Bionic Levitaz 2017 Kitefoil
Type: Race | Competition
Sizes: 96cm | 110cm [Plate Mount or Deep Tuttle Box]

Plate Mount mast can be attached to any board that has 4 bolt threads.
Deep Tuttle Box mast can be attached to any board that has deep tuttle box.

Information:
The Levitaz Bionic is the ultimate racing machine. As proved in the World Series, the Bionic is the most used foil of the world´s top riders. With its radical design, the Levitaz Bionic is characterized by the lowest drag which leads to most efficient upwind courses, highest speeds and extends your reach of new spheres.

Materials: composite, steel
Weight: 3.7kg (96cm), 3.9kg (110cm)
Dimensions: 65 x 60 x 105cm (96cm), 65 x 60 x 115cm (110cm)

Features:
» Completely dismountable, compact storage – very handy for air journey
» Extremely resistant connection system
» Top Quality – Made in Austria
» Ideal for experienced foilers
» Excellent efficiency
» Top speeds
» Race foil
Delivery: Every kitefoil comes with a resilient carrier bag and a protective cover set, specifically designed to hold the Levitaz kitefoil.
The new Levitaz Bionic Rearwing will improve your performance due to its low drag and the resulting top speeds.
Write a review
Note: HTML is not translated!
Bad
Good