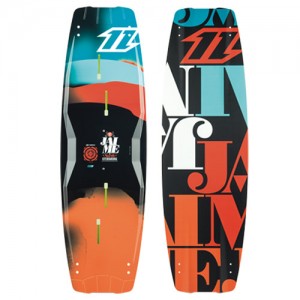 Jaime 2014 North Kiteboarding
0 reviews
&nbsp
Write a review
Model: North Kiteboarding Jaime 2014
Type: Freestyle / Freeride

Features:
- Great pop – smooth ride
- Most versatile board
- Light construction
- Carbon beam

The Jaime is in a class of its own, it's been the pro model for Jaime Herraiz for 9 years! Over that time the board has been tweaked and developed, but has always retained the core focus, to be one of the best boards for Jaime, himself, to ride. The board uses the same Sandwich Construction that revolutionised the kiteboarding industry all those years ago and now features a Carbon Beam to improve the torsional stiffness and flex. All of our construction knowledge is put into ensuring the Jaime is one of the best-manufactured boards around. Freestyle, freeride, carving, the Jaime excels at it all whilst still retaining a comfortable ride that will surprise many kiters. The team at North have refined the test-winning concept from 2012 to create the best Jaime yet. The harder you ride the board, the faster and higher it goes. The Jaime has a progressive flex and Double V bottom that makes jumping easy and for a board with so much performance it is very forgiving. Take it out for a chilled cruise, or fire it up for some high wind mega loops it won't disappoint. If it is good enough for Jaime, it is good enough for you!

Available sizes:
130cm / 39cm
133cm / 40cm
136cm / 41cm
139cm / 42cm

The board comes with 4 fins and screws.
Write a review
Note: HTML is not translated!
Bad
Good