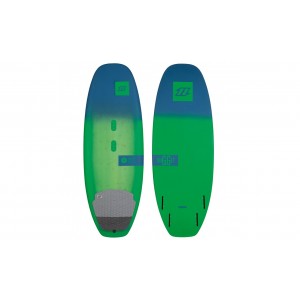 Nugget CSC 2016 North Kiteboarding Surf Board
0 reviews
&nbsp
Write a review
Model: North Kiteboarding Surf Board Nugget CSC 2016
Type: Surf / Wave
Code: 44600-3411
Information:


WAVE
> LIGHT WIND AND SMALL WAVES / MOST FUN IN BAD CONDITIONS
> EARLIEST PLANING BOARD
> TOP UPWIND PERFORMANCE
> CONVENIENT SIZE FOR TRAVELLING
> PIVOTS OVER THE TAIL
> CLASSIC CONSTRUCTION
The Nugget has been a favourite among many riders around the world for a few years now. It excels when the conditions are sub par and makes those not so great days on the water infinitely more fun! For 2016 the board benefits from our Compact Surf Concept, Sky has been working tirelessly on this new board for over two years and now it is finally here. The CSC inspired design has improved every aspect of the Nuggets performance and given the board a whole new lease of life! Volume has always played a major role in the Nugget's light wind performance, but low-end ability and glide is now significantly increased through a straighter rail line. This increases the planing surface but with even less volume and length than before. The new outline template allows for a radically efficient use of rail line, rocker and volume, resulting in a board that is ridden 2 '' shorter than before and offers noticeably better lowend planing, glide, stability and manoeuvrability. The Nugget is now faster because it's straighter, which also increases the stability, balance and helps upwind performance. The wider nose has more surface area for planing and incorporates more overall nose rocker and forward V, which in turn increases manoeuvrability without sacrificing any of the light wind benefits attained through the wider nose. If you liked the old Nugget, you'll love the new one, it's a huge leap forwards in performance!
Surfboards include fins and rear deck pad only.
Write a review
Note: HTML is not translated!
Bad
Good