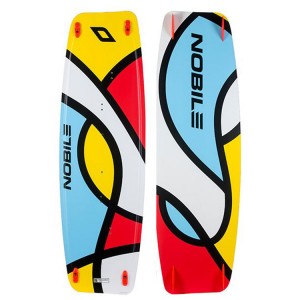 T5 2017 Nobile Kiteboarding
| | |
| --- | --- |
| Brand: | Nobile |
| Product Code: | T5 2017 |
| Availability: | In Stock |
0 reviews
&nbsp
Write a review
Model: T5 2017 - Nobile Kitesurfing Board
Type: Freeride
Size (cm): 134x41 | 137x42 | 140x44
Main Features:
» High comfort
» Solid edge grip
» Easy to ride
» Good pop
Flex (1-10): 7
Rocker line: Flat Hydrodynamic
Bottom construction: Elliptical CONCAVE

Description:
If you are looking for a true freeride board, the T5 is the ultimate solution. It's a very light board and its flex has been adjusted to perform well in all conditions. Big air and big landing becomes easy. The T5 is a great board with unique properties on the water. We have achieved this effect through including the Pre-Stress technology which magically stretches the wood fibres by weaving and laminating them with glass fabrics in their outstretched form. Thanks to this unique technology, Nobile boards gain bigger torsion resistance, which translates into fantastic upwind abilities and massive pop for jumps.
Pre-Stress maintains energy within the board which, combined with perfectly chosen flex engineering, ensures low weight, responsiveness and exceptionally soft landings. Furthermore, by using the Wavy Channels system and a Flat Continuous Rocker, we have achieved easy manoeuvring with full board control,
while the asymmetrical outline with extended backside edge allows easy and more effective curves. The T5 is perfect for freeride and freestyle elements. It performs well in any given conditions, from flat through to choppy water with small waves.

For whom?
For intermediate to advanced riders looking for an advanced freeride board with freestyle ambitions. after your kite course.

Features:
– Wavy Channels system makes the board ride like it is on rails.
– Improved Pre-Stress technology provides outstanding edgegrip and pop, as well as strengthening the board's reactivity.
– Asymmetric outline facilitates curves and turns without anynegative impact on upwind riding.

Board set includes:
– Click'N'Go IFS
– Click'N'Go PA Fins
– Grab Handle
Write a review
Note: HTML is not translated!
Bad
Good