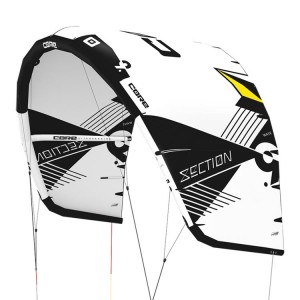 Section Core Kiteboarding
| | |
| --- | --- |
| Brand: | Core |
| Product Code: | Section Core Wave Kite |
| Availability: | In Stock |
Price: 948.99€
0 reviews
&nbsp
Write a review
Model: Section Core Kiteboarding
Type: Wave | Surf Style
Sizes: 4.0 | 5.0 | 6.0 | 7.0 |8.0 | 9.0 | 10.0 | 11.0 |LightWind 12.0 |LightWind 14.0

Information:
For some, it's all about the waves. A three dimensional playground to explore and experiment on. And to get the most out of your wave session, we've built the Section.
A purebred wave kite with 3 struts, lightweight construction, perfect balance and super quick reflexes. A kite that stays put while you ride those super fast waves. A kite that doesn't stall out when you're toeside on a wind driven 10 footer. A kite for all you strapped and strapless wave junkies that will drive hours for that magical wave session.

Delivery includes: Kite, custom backpack, pro repair kit and manual.

Features:
» CORE Intelligent Trim System (CIT)
» Ultralight 3 Strut Frame
» Instant Auto Relaunch
» Radical Reaction Tips
» Short Bridle System
» Speed Pump System
» Grintex® Patches
» Sensor Bar Ready
» Surf Profile
» ExoTex® Dacron
» Future-C Shape
» Speed Valve 2
» CoreTex®
Section Core - WAVE Warrior.

6 Years Parts Guarantee.
Write a review
Note: HTML is not translated!
Bad
Good