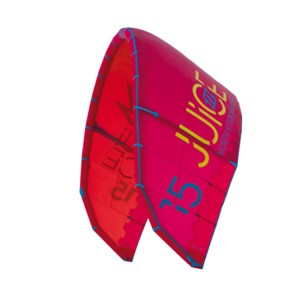 Juice 2015 North Kiteboarding
0 reviews
&nbsp
Write a review
Model: North Kite Juice 2015
Type: 4 or 5 lines, Freestyle / Freeride

Information:

The second generation of our hugely popular light wind freeride kite, the Juice is ideal for those days on the beach when the wind doesn't arrive. The kite is available in two sizes, 15m and 18m and is designed around a 3-strut platform to ensure it retains a playful nature in the air, despite the large size!
The Juice has amazing upwind performance, even in hardly any wind. Unlike some large kites, which have a racing focus in mind, the Juice was designed for freeriding. During the design process the Juice was tested using Twintips, this enabled us to ensure the kite offers the optimum performance for light wind freeride action. You'll be amazed with the huge jumps on the Juice too, the kite glides and offers plenty of hangtime and it is a great kite for airstyle tricks.
Don't get stuck on the beach this summer, grab a refreshing Juice and get on the water!
Write a review
Note: HTML is not translated!
Bad
Good