Religion MK6 2016 RRD Kite
| | |
| --- | --- |
| Brand: | RRD |
| Product Code: | Religion MK6 2016 |
| Availability: | In Stock |
0 reviews
&nbsp
Write a review
Model: RRD Kite Religion MK6 2016
Type: Wave

Information:
RELIGION is synonymous of WAVE in the international kite language, and since its first introduction this kite has changed in every version together with the evolution of this discipline. Actually RRD team can say that this kite has greatly contributed to improve the level of many stoked riders thanks to its phenomenal performance characteristic. A bullet proof construction, mixing the body construction between 40% heavy duty Dacron fabrics and 60% lightweight canopy. A unique mix used only in the Religion kites still today, creating a superior crash resistance and a huge lifetime extender.
This new design, allows also a bigger range of use, both on the hi and low end of the kite, extending the possibility of use practically to any day anywhere. More power, better lift during jumps and an enormous, progressive de-power that will stop the kite power exactely when you need it. Simply a throttle in your hands, gearing up your rides when you need power and completely release it when you use your created speed on the wave. Neutral, powerful and silly fast when willing to get out of troubles on wave sections that close out or when you totally need that extra bost to move to the next section. A perfect kite both in onshore and totally offshore co
Features
Juts to add up a few more feature to an already successful package of proven innovation RRD team added:
- B.U.S.T system (Bridle Untangle Stiff Triangle System) to prevent bridle tangling around tips.
- Double reinforcement tape around the leading edge closure to further extend lifetime of the kite.
Now the RELIGION MK6 is just waiting for you to decide wether you are serious about improving your level and go one step ahead in your search for the ultimate wave to ride.
nditions, tested in literally anywhere you could take it.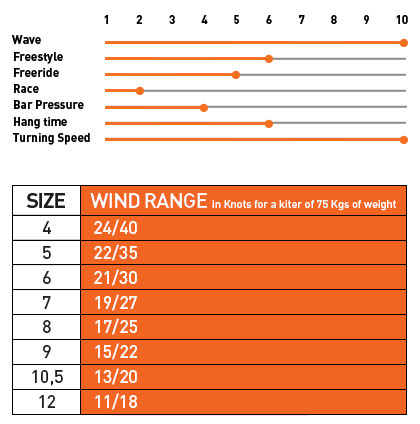 Write a review
Note: HTML is not translated!
Bad
Good