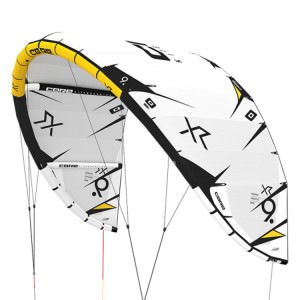 XR4 Core Kiteboarding
| | |
| --- | --- |
| Brand: | Core |
| Product Code: | XR4 Core Kite |
| Availability: | In Stock |
Price: 998.99€
0 reviews
&nbsp
Write a review
Model: XR4 Core Kiteboarding
Type: Freeride | Wave | Race
Sizes: 5.0 | 6.0 | 7.0 | 8.0 | 9.0 | 10.0 | 11.0 | 12.0 | 13.5 | LightWind 15.0 | LightWind 17.0 | LightWind 19.0

Information:
XR4. For pure adrenaline pumping hangtime. A kite that delivers ridiculous whoo-hoos in any conditions. A power-kite that always has your back.
From freeriding to surf the 4th generation, ExoTex equipped, XR delivers control in the gusts and power in the lulls. Your ticket to relaxed cruising, explosive boosts or sublime wave riding. Experience for yourself the XR's chameleon like ability to transform to any style or riding level.
Technically identical, the new black edition delivers the same whoo-hoos as our classic white edition. The same comfort and high performance you expect from an XR series kite. How can we build a high performance all-rounder? With technological innovations like our flight control system, our unique safety system and our intelligent trim system. It is this kind of innovation that exemplifies the design team's drive to create the perfect all-round kite. And the market responded, making the XR 4 series a bestseller.

Delivery includes: Kite, custom backpack, pro repair kit and manual.

Features:
» CORE Intelligent Trim System (CIT)
» EXOTEX® Ultra Rigid Dacron
» CORETEX® Triple Ripstop
» Short Bridle System
» Intelligent Arc
» 5 Strut Frame
» Delta Bow Shape
» Speed Valve 2
» Speed Pump System
» Instant Auto Relaunch
» Sensor Bar Ready
» GRINTEX® Patches
XR4 Core - Any wind. Any style. A power delta bow powerkite.

6 Years Parts Guarantee.
Write a review
Note: HTML is not translated!
Bad
Good