Neo 2018 North Kiteboarding
Price: 928.99€
0 reviews
&nbsp
Write a review
Model: NEO 2018
Type: Freeride | Wave
Sizes: 3 | 4 | 5 | 6 | 7 | 8 | 9 | 10 | 11 | 12

Information:
The NEO 2018 is the ultimate wave riding weapon for all the riders out there who love to ride surfboards, offering excellent freeride abilities as a plus. It is the go-to kite for our pro team competing on the Strapless World Tour and the kite of choice for wave riders all over the world. For 2018 the goal was to further improve the handling and responsiveness of the kite. To achieve this, our designers had to think outside the box, and they came up with a unique concept. Special "Flex Segments" have been built into the leading edge allowing the kite to twist even more than before when turning. This has vastly improved the handling capabilities of the kite making it one of the most dynamic wave kites on the market today. The kite is also exceedingly stable in the air, with excellent drift, making it perfect for freeriding. If you want to get the most out of every wave session, the NEO is the kite for you!



Features:
» "Flex Segment" Leading Edge design to improve turning speed
» Very powerful (choose one size smaller) but with good depower
» Adjustable front bridle for freeride tuning setup
» Responsive steering whether powered or depowered
» Excellent drifting abilities
» 4 and 5 line setup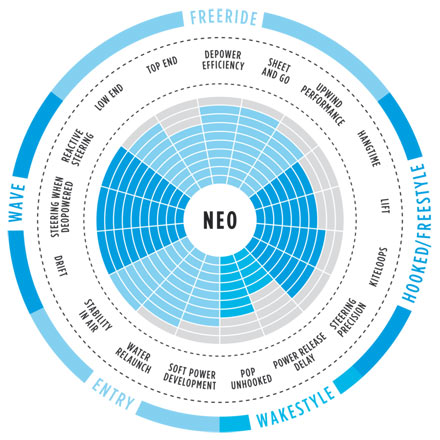 The new Neo 2018 and the click bar are a perfect combo to enjoy the waves.
Write a review
Note: HTML is not translated!
Bad
Good