Quest TT 2018 North Kiteboarding
Price: 698.99€
0 reviews
&nbsp
Write a review
Model: Quest TT 2018 North Kiteboarding
Type: Freeride Wave
Sizes: 5'10"

Information:
The Quest TT 2018 offers a truly classic surf-board shape and as such becomes one of the most versatile boards in our range. Built using our TT construction, which is both exceedingly durable and offers great value, the board can handle pretty much anything you throw at it. Perfect for freeriding and for tackling small to medium sized waves the Quest TT is designed to be as forgiving and as easy to ride as possible. If you are just starting your wave-riding career, this is the best board to take with you on that journey. The classic shape and thruster set up give a confidence inspiring feel on the wave and when learning your first turns. Control comes easily, and the stability of the board makes it a very smooth ride, even in heavy chop on windy days.

Features:
» Perfect for small to medium sized waves
» TT Construction
» Easy to control
» Extremely stable
» Excellent value
» RTM fins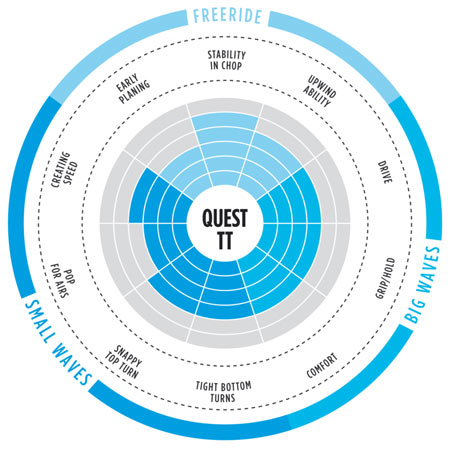 The Quest TT 2018 is a great starting point for your big wave career!
Write a review
Note: HTML is not translated!
Bad
Good