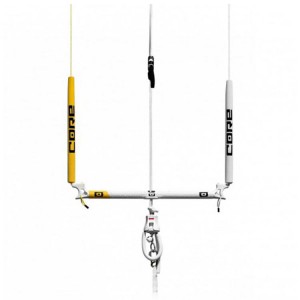 Sensor 2S Core Bar
| | |
| --- | --- |
| Brand: | Core |
| Product Code: | Sensor 2S Core Bar |
| Availability: | In Stock |
Price: 498.99€
0 reviews
&nbsp
Write a review
Model: Sensor 2S Core Bar
Type: Ultralight Unibody 4-Line Bar

Information:
Your session's awesomeness depends heavily on your gear. We believe the Sensor 2 control bar system contributes much more than you would think to kite performance. And it's what you don't see that makes our bars so unbelievably good. The functional know-how we hide inside and the minimalist design on the outside gives our bars the signature CORE confidence you expect. And the safety features you rely on.
The Sensor 2 bar is now joined by the new Sensor 2S and Sensor 2S Pro. Two new bars with more tech wizardry that you can't even see at first glance. Regardless of your bar selection, The CORE Sensor 2 bar system will provide you with the lightest, safest, and most direct feeling bar on the market. Because we sell more than just cool bars. We sell confidence.
Meet the new Sensor 2S. An intelligent mid-cycle update to the exceptional Sensor 2. A bar, where engineering ingenuity meets minimalism; where ceramic bearings are used to eliminate friction in the auto untwist function; and where Tectanium is used to make the thinnest and most aerodynamic depower lines. Technical innovations that make the Sensor 2S bar system peerless. Sometimes, it's what you don't see, that makes it so good. Still not good enough for you? Then, you are ready for the new Sensor 2S Pro.



Features:
» Ultralight Unibody Bar
» Supperted Single Fromtline Safety (SSF)
» Short Safety Leash
» Core Loop / Stick Set
» Durable 24 Meter Lines
» Sensor Adjuster
» Titanium Core
» Rotor QuickRelease
» Spliced Ends
» Vario Width



Sensor 2S Core Bar - Peerless in Design. And now with the new S-System.
Write a review
Note: HTML is not translated!
Bad
Good