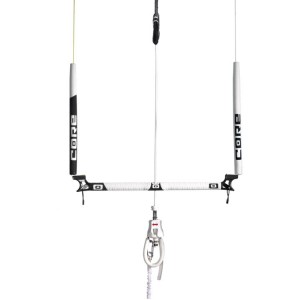 Sensor 2S Pro Core Bar
| | |
| --- | --- |
| Brand: | Core |
| Product Code: | Sensor 2S Pro Core Bar |
| Availability: | In Stock |
Price: 648.99€
0 reviews
&nbsp
Write a review
Model: Sensor 2S Pro Core Bar
Type: Carbon Unibody Bar | Tectanium Lines and S-System

Information:
Meet the new Sensor 2S Pro bar. The only, titanium trussed, carbon fiber control bar. A bar that exhausts superlatives. A bar we are very proud of. We leveraged our experience in carbon fiber board building to build a 100% carbon fiber, thin grip, unibody bar reinforced with a titanium alloy truss. Although it shares many of the same features as our sensational Sensor 2S bar, it is profoundly different in that it features a full carbon fiber bar and 100% Tectanium lines, top to bottom. Go Sensor 2S Pro.

Key Feature:
210g CARBON BAR - by far the lightest bar on the market for even more direct feedback and steering of the kite.
FULL TECTANIUM® LINES - up to four times more stretch resistant, 50% higher break load, 10% thinner and lighter.

Features:
» Supperted Single Fromtline Safety (SSF)
»CARBON Fiber Bar
»Full TECTANIUM® LINES
10 percent lighter and thinner
50 percent higher break load
400 percent higher stretch resistance
»The "S-SYSTEM"
Ceramic Untwist
S-Neck
»TECTANIUM® S-Slide | Depower Lines
»Tectanium® Vario Lines
» Titanium Core
» Rotor QuickRelease
» Short Safety Leash
» Vario Width
» Core Loop / Stick Set
» Sensor Adjuster
» Spliced Ends

Compatibility: The Sensor 2S Pro bar is fully compatible with all Core kites and lots of 4-line kites by other brands.




Sensor 2S Pro Core Bar - Apex Predator
6 Years Parts Guarantee
Write a review
Note: HTML is not translated!
Bad
Good