ADHD Sunset 2017 Shinn Kiteboarding
| | |
| --- | --- |
| Brand: | Shinn |
| Product Code: | ADHD Sunset 2017 |
| Availability: | In Stock |
0 reviews
&nbsp
Write a review
Model: ADHD Sunset 2017 Shinn Kiteboarding
Type: Twintip
Size: 137cm x 41cm | 140cm x 43cm

Information:

Designed for anyone with aggressive tendencies it's so much fun. For the nervous it's ideal, in truth this board is for everyone. Although the ADHD Sunset can be aggressive, it is NEVER difficult or uncomfortable.
If the ultimate, kite low performance is what you seek then you better choose a tool suited for the job - you need the Shinn ADHD Sunset. Too many riders are forced into riding a sub-optimal board simply through lack of options. In a world where POP and landing are key components the ADHD Sunset can help you un-lock your potential both on the water and on the cable.
Every feature of this board is designed to help you take your performance to the next level so you better get ready to get wet, progression is not easy but at least now you won't be able to blame your deck.
The vertical entry of the new Split Concave offers more edge grip when using smaller fins, increases the stiffness through the centre of the board and works to split the water on landing leading to much softer re-entries. The Double Stepped Tips not only re-direct water, the board reduces drag and also increases the rocker in the centre of the deck.
The rail to rail variable rocker provides a board that has fantastic upwind ability and light wind drive and yet retains the aggressive POP wake style riders are looking for. Stiff enough to perform and yet comfortable enough to enjoy riding in "less than ideal" conditions. The all new ADHD Sunset has a proven competition heritage and is a treat for the aspiring freestyler and wakestyle aficionado alike.
For 2017, Shinn have tweaked and tuned to create even more POP, endless control and the ability to ride out of even the harshest landing making it the choice of all their team riders when they're looking for the highest kite-low performance possible - no matter when riding straps or boots.
Spray: No spray, ever, no matter how choppy, no matter what your stance is, what your carving position, where you place your pads; it's gone, completely. The ADHD Sunset has cured it using only limited rocker curve, so it's still efficient with a wide windrange.
Chop: The flex, grip and ease of the ADHD Sunset makes it a total joy in chop. Whether you are riding in 6 metre kite conditions, the ADHD Sunset makes it easy, relaxed and fun.
Confidence: It's a board that you can push to the ragged edge of control, without ever feeling nervous or hesitant. The first thing to come unstuck is never your stance or balance!
Even-Foot Pressure: Every twin suffers from back foot loading, but some twins have to be ridden with excessive back foot pressure, either to stop the nose from burying when things get out of shape, or to stop you getting spray in your face. The ADHD Sunset is a joy, it feels so solid underfoot that you can shift you weight around a great deal – even 50-50 when you are tired. Ride it hour after hour and your sessions will be so much fun!
Pop: The ability of the board to heel-side carve without losing speed makes it excellent for wake style pop, as well as having plenty of traditional pop. Hardcore freestyle is easily within it's grasp but for everyone who does not spend half their session unhooked the ADHD Sunset is a far superior board for multidiscipline freestyle.
Choosing your board size: Whilst many riders still look at the length of the board when choosing their size it's much more relevant to look at the width. The length of the board can be affected by the shaping of the tip and tail - which in reality plays no part in the performance of the board
To clarify the situation further the difference in surface are between a 130 x 40 and a 130 x 42 is approximately 260cm2 whilst increasing the length of a 130 x 40 to 135 x 40 would give an increase in surface area of less than 200cm2 - nearly 25% less!
Footbed and Straps: The connection between rider and board can make or break the quality of your ride. Of course they should look slick but only after the function is perfect.
Shinn Kiteboarding's deep section EVA cushioning ensures luxurious comfort even during the harshest landings, whilst a carefully placed section of memory foam adjusts the surface to the shape of your feet after only a couple of hours riding. Multi-position fixation points allow you to fine tune your stance to perfection. The Shinn footstrap has been shaped to provide maximum grip on your foot with minimal pressure points and complete ease of adjustability.
Fins: All Shinn twin tips are supplied with high visibility Nylon fins and deck protection plates. Shaped exclusively for Shinn (for unsurpassed durability), this 53mm shape provides exceptional grip for it's size whilst still offering great manoeuvrability.
Core Construction: What's inside your board will make a huge difference to how it performs. There is a lot of talk about flex but the mount of flex is just the tip of the iceberg, what"s more important is where the board flex"s and how fast it responds after that flex.
Each Shinn twin tip has a carefully engineered core that optimises these characteristics and enhances them for the target rider. Core materials, glass layup and mould shaping are all factors that help us in this area but the heart of every Shinn twin tip is comprised 'mostly' of an Alabasia wood core. No other core material offers the same blend of consistent flex over extended periods of time, feather light weight and near indestructible durability (not to mention environmental friendliness).
FS Mould Shaping: This FS mould is designed to provide you with the ultimate in comfort and control. It's unique ovalized, central platform creates extreme amounts of tail flex through both axis yet maintains rigidity underfoot to ensure planning performance and upwind ability are un-hindered.
Constant Curve Rocker and Outline: Some years ago this rocker would have been considered to be slow to plane and poor upwind but advances in flex control, concave hull shapes and of course kites now mean it can be used to provide un-paralleled control, limitless grip and completely spray free riding in all conditions. The outline of your board works in conjunction with the rocker to define the way it will perform. In freestyle - this outline style features more curve radius between the feet leading into straighter, larger diameter curves in the tip and tail. On the water this translates into strong edge grip, aggressive POP and fast turning when applying pressure equally through both feet.
Sizes:
- Shinn ADHD Sunset - 137 x 41 - recommended rider weight: 75-85kg
- Shinn ADHD Sunset - 140 x 43 - recommended rider weight: 85kg+
Shinn Bite Fins: Grippy and ideal for carving without being too difficult to break traction for stance changes. Made from moulded Nylon in a yellow colour way, they are light and tough, Each fin is supplied with bolts and Shinn fin washer.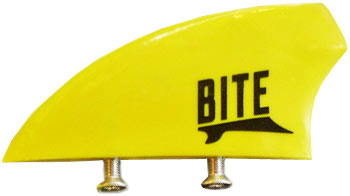 The board comes with:
- Grab Handle
- Footstraps and pads- Sneaker SRS
- 4 Fins


Write a review
Note: HTML is not translated!
Bad
Good