Pro Wam 2018 North Kiteboarding Surf Board
Price: 998.99€

0 reviews
&nbsp
Write a review
Model: Pro Wam 2018 North Kiteboarding
Type: Strapless pure surf
Sizes: 5'8" | 5'10" | 6'0"

Information:
First time this year the new Pro WAM 2018 has been added to the range, replacing the Pro Surf and been tweaked to improve the performance even further. Sky Solbach added 1/8" to the width of the board and also pushed the wide point further forwards. This has created a fuller nose and increased the surface area of the board. The result is improved handling in light winds and smaller waves, while still retaining the impressive high speed and sought after big wave performance that riders love. The Pro WAM is a high-performance all-round traditional shape that excels in most conditions from small to large waves. It is the go-to competition board for our team riders in most conditions. A new grab rail, optimised volume distribution and double concave deck finish off one of the most impressive boards in the North Kiteboarding range.

Features:
» Best all rounder across the widest range of conditions
» Good balance of grip and explosive snaps off the top
» Excellent speed generation with lots of control
» Competition level shape and technology
» Concave deck with grab rail
» Light Team Construction
» Cork shock absorber 2.0
» Vacuum Epoxy Custom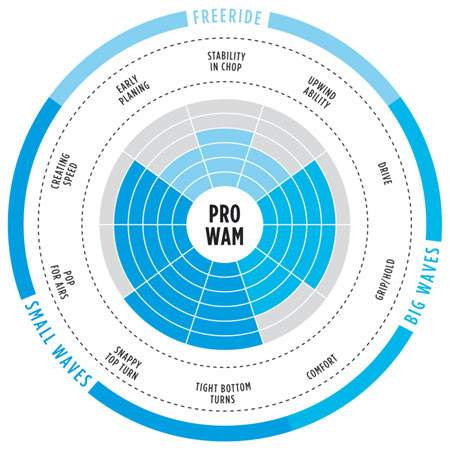 Pro Wam 2018 - This is the surfboard if want to ride all kind of conditions
Write a review
Note: HTML is not translated!
Bad
Good