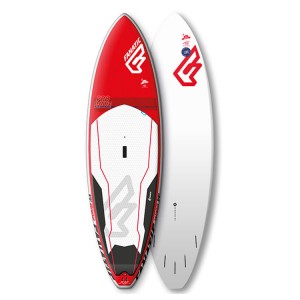 Prowave 8'9" HRS 2015 Fanatic SUP Board
| | |
| --- | --- |
| Brand: | Fanatic |
| Product Code: | Prowave HRS 2015 Fanatic SUP Board |
| Availability: | In Stock |
0 reviews
&nbsp
Write a review
Model: Prowave HRS 2015 Fanatic SUP Board
Size: 8'9"

Information:
Prime performance with your ProWave Fanatic SUP. 2015 sees the ProWave range take SUP wave riding to the next level, with shapes that complement a rider's search for radical manoeuvres, speed and control. This year we introduce five brand new shapes ranging from 7'6" to 9'2" while the well regarded 9'6" and 9'10" make up the rest of the range to create the most extreme high performance wave riding collection.
The smallest Fanatic SUP in the Fanatic range, the 7'6", is impeccably balanced and easy to paddle with quick acceleration. Once unleashed onto a wave it speaks for itself giving you an exceptionally responsive ride.
The wider nose and squash tail design of the range offers more stability in the smaller models, whilst retaining highly responsive turning capabilities in the larger ones. A thinner rail profile provides more grip and drive through the turn. The 9'6" has enough evenly distributed volume to carry any rider weight while delivering Shortboard SUP performance.
The 9'10" Semi-Gun is a slightly stretched version of the 9'9", designed for speed and charging big waves. It was the first SUP to conquer Shipstern's Bluff / Tasmania!
A Quad or Thruster fin setup gives you the ultimate flexibility to adapt the board to your style of riding or the conditions of the day. A subtly domed deck and a balanced volume distribution provide optimum paddling efficiency and ease for catching waves. Riding down the line, the ProWave performs with outstanding flow making light work of BIG conditions. Mastfoot insert for Windsurfing option.

Features:
» Single concave entry, transitioning into a single / double concave mid section through to the tail, enhancing speed and lift
» Slightly domed deck for maximum stability blending seamlessly into the thin rails
» The new bottom and rail shape provides ultimate grip allowing for smaller fins
» Real surf scoop rocker line with added nose kick, to prevent any nose diving
» Shortboard / performance nose outline and performance squash tail
» Hard release edges in the tail and softer in the nose
» Quad / Thruster fin setup with 5 Futures boxes
» Pulled down thin rails for maximum carving
» CAD designed and analysed
» Mastfoot insert for Windsurfing option

Specifications:
» Volume - 116 l
» Width - 29.5"/ 74.9 cm
» Length - 8'9"/ 266.7 cm
» Technology - HRS
» Fittings - 3 × ProWave4 3/4" Thruster Set GFK;5 × Futures Boxes
Write a review
Note: HTML is not translated!
Bad
Good