Team Series Hadlow 2018 North Kiteboarding
Price: 1,048.99€

0 reviews
&nbsp
Write a review
Model: Team Series Hadlow 2018 North Kiteboarding
Type: Wakestyle | Competition Freestyle
Sizes: 140/42.5

Information:
Five world titles, two King Of The Air titles and a trophy cabinet that's got more bling than Jay-Z, Aaron Hadlow is one of the most accomplished kitesurfers on the planet. His board reflects everything he needs to compete at the very top level of the sport. It's incredibly stiff for maximum pop and thanks to a new top mould and stringer has almost no reverse flex for the ultimate in controlled landings. The Slick Base is perfect for hitting obstacles, and the deep channels mean the board performs impeccably without any fins. For 2018 the board has a new bottom shape with wider channels for softer landings, and the tips have been softened to help absorb chop. The Hadlow TS is a competition winning board built for the multiple world champion that is also available to you; the sky is now the only limit!



Features:
» Minimum reverse flex ensures absolute control on landings
» Explosive pop due to robust Biax Carbon
» Step Double Concave Wide Channel
» Premium Performance Construction
» Deep channels give maximum grip
» North Boot recommended
» Slick Base for obstacles
» Robust and durable
» In-line Track System
» Hard Flex
» Slick Base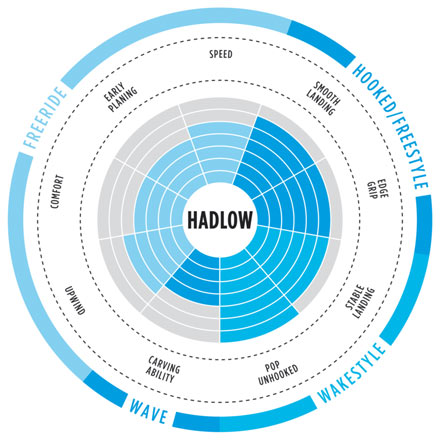 Team Series Hadlow 2018 - For strong winds and massive kite loops.
Write a review
Note: HTML is not translated!
Bad
Good