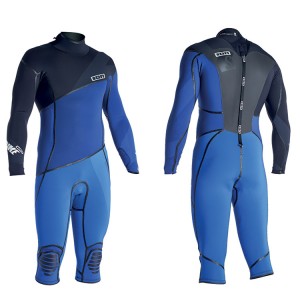 Strike Amp Overknee LS 4/3 DL 2015 Men Ion Wetsuit
| | |
| --- | --- |
| Brand: | ION |
| Product Code: | Strike Amp Overknee LS 4/3 DL 2015 Men |
| Availability: | In Stock |
0 reviews
&nbsp
Write a review
Model: Ion Wetsuit Strike Amp Overknee LS 4/3 DL 2015 Men
Type: Overknee, Long Sleeves
Color: Black / Blue
Code: 48502-4407

Information:
STRIKE AMP semidry wetsuit stands out with the darker hues that whisper about coziness.
Another recent accomplishment in that direction that allows longer use since bonus patches make sure no ripping is included.
That way you are not proudly entering the water in your new semidry wetsuit and leaving after your session in just underpants. Not one droplet is allowed behind your back zipper when on the other hand your bare skin is taken care of with warm softness of wool like material.
As well as your lower sensitive man body parts shall enjoy exclusive protection against chilly weather or unpleasant harness straps.
Your needed accessories like keys or glasses also earned a special loop places without interrupting the flexibility. Leaking however is not an option so big names like Gate keeper and Drain holes are there for you.
Being safe calls for one more improvement when it comes to the mission of not getting injured. Additional pads on places like ribs or tailbone will work like magic.
Features:
- SANITIZED® TECHNOLOGY: Sanitized® is a certified antibacterial fabric with active biocidal substance: zinc pyrithion treatment to prevent bad odor from bacteria, mildew etc. in moist or sweaty environments. This function is permanently integrated in selected ION items such as premium wetsuits, boots and shoes.
- FLEX_CONTROL maximum flex combined withNINJA_KNEE construction NEW! The specific modifications in the panel construction (calledFlex_Control) of some products result in a better performance of this product. ION Neoprene Socks for example have a striped Flex_Control print on the instep which provides better stance and stability by reducing the stretch in this area. Or by adding a double lined flex panel on the arm sleeves of the Quantum Select Series the elasticity of these skin suits was improved where it is most needed.
- WARM&COSY thanks to HOT_STUFF lining
- S_SEAL seam protection
- CRASH_PADZ protection of shins and ribs
- FLEX_CONTROL
- S_SEAL
- NINJA_KNEES
- CRASH_PADZ
- HOT_STUFF
- L-TEX_PROTECTION NEW!
- SEAM_REINFORCEMENTS
- SEAL_TITE (WRIST)
- SEAL_TITE (COLLAR)
- WATER_GATE_PLUS
- GATE_KEEPER
- CONTOUR_CUT
- DRAIN_HOLES
- SUNGLASS_LOOP
- KEY_LOOP
- CROTCH_PROTECTION
Write a review
Note: HTML is not translated!
Bad
Good