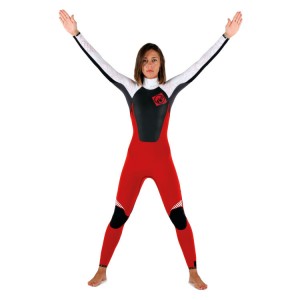 Amazone Back-Zip 3/2 D/L 2014 RRD Women Wetsuit
| | |
| --- | --- |
| Brand: | RRD |
| Product Code: | Amazone Back-Zip 2014 RRD Women Wetsuit |
| Availability: | In Stock |
0 reviews
&nbsp
Write a review
Model: Amazone Back-Zip 2014 RobertoRicciDesigns Woman Wetsuit
Type: Semidry DL
Color: Black/Red/White
Thickness: 3/2

Information:
For girls that need an extra edge of warmth and freedom of movements. 3/4 made with our Apex QF limestone neoprene and 1/4 mesh neoprene panels, the Amazone is fully double blindstitched on the outside to keep maximum strength and strectch potential. 85% fabric taped on the inside for Ultimate seam sealing and movement comfort, the Amazone backzip offers an additional warm potential thanks to the special chest and back panels, where mesh neoprene accelerates wind drying time.

Features:
» Back Zip with full size extra stratch Aquaban
» Wrist and ankle hot glue taped
» Double bllindstich seams
» Work'n'flex knee panels
» Softskin waterlock collar
» 75% APEX QF neoprene(AQ)
» Ankle water lock straps
» 85% AP TAPE
» 25% Mesh Neoprene
» Key pocket
» Drain holes

Amazon back zip 2014 RRD - Power of Freedom
RRD Wetsuit: Size Chart »

Write a review
Note: HTML is not translated!
Bad
Good