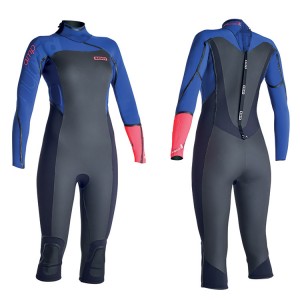 Hybrid Amp Overknee LS 4/3 2015 Women Ion Wetsuit
| | |
| --- | --- |
| Brand: | ION |
| Product Code: | Hybrid Amp Overknee LS 4/3 2015 Women |
| Availability: | In Stock |
0 reviews
&nbsp
Write a review
Model: Ion Wetsuit Hybrid Amp Overknee LS 4/3 2015 Women
Color: Black/Blue
Code: 48503-4540
Type: Overknee 3/4, Long Sleeves

Information:
Key Features
- Flex_Control Maximum Flex combined with Ninja_Kneesconstruction NEW!
- Warm & Cosy thanks to Hot_Stuff lining
- S_Seal seam protection
- Wind-Chill protection at torso
ION Hybrid Amp Women 2015 Line Concept: Get what they really need: full flex performance at arms and knees /shins and skin Neoprene windchill protection at the torso for good warmth during stormy sessions – embrace the elements!!
ION Hybrid Amp Women 2015 Target Group
Wind water lovers looking for unmatched freedom of movement for all-out riding and some great tricks.
Features
- NINJA_KNEES
- FLEX_CONTROL
- HOT_STUFF
- S_SEAL
- L-TEX_PROTECTION NEW!
- SEAM_REINFORCEMENTS
- WATER_GATE_PLUS
- GATE_KEEPER
- CONTOUR_CUT
- LEG LOOP
- DRAIN_HOLES
- SUNGLASS_LOOP
- KEY_LOOP
- Hybrid TECHNOLOGY: Features a unique combination of finest skin and double lined neoprene to get the best of both worlds: Windchill Protection & Superb Stretch
- Sanitized® TECHNOLOGY:Sanitized® is a certified antibacterial fabric with active biocidal substance: zinc pyrithion treatment to prevent bad odor from bacteria, mildew etc. in moist or sweaty environments. This function is permanently integrated in selected ION items such as premium wetsuits, boots and shoes.
Write a review
Note: HTML is not translated!
Bad
Good