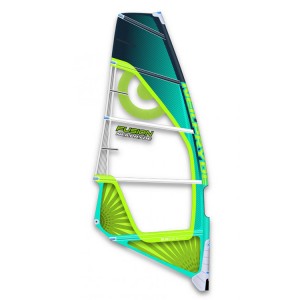 Neil Pryde Windsurfing Sail Fusion 2016
| | |
| --- | --- |
| Brand: | Neilpryde |
| Product Code: | Fusion 2016 |
| Availability: | In Stock |
0 reviews
&nbsp
Write a review
Model: Neil Pryde Windsurfing Sail Fusion 2016
Type: Crossover

Information:
Fusion is a sail I really enjoy riding as it does everything well. There is plenty of profile shaping on the battens to get lots of power and good speed essential for jumping in on-shore, choppy conditions.
Outline is inspired by five batten wave sails, making the Fusion really fun to play with in small waves.
Use anywhere, in any wind strength, on any water condition. Learn the basics, jump, catch a wave, try a freestyle trick or get into freeride mode and leave your friends behind for speed.
With forgiving handling and optional full HD construction, the Fusion is suited to all types of windsurfing.
Features:
- New: Forceline tack panels
- Light and Forgiving through moderate skin tension and riderfocused centre of effort.
- Progressive aspect ratio:High aspect ratio for maneuveroriented small/medium sizes. Lower aspect ratio for larger sizes.
- Size-specific foot angle: Low in big sizes. High in small sizes.
- One mast and boom fit all sizes. (430 Mast/160 Boom)
Size
Luff
Boom
Base
Battens
Cams
Ideal
Mast
Top
Finishing
Weight
Weight
(HD)
4.5
407
153
8/2
5
0
400/430
Vario Top
3.45kg
3.49kg
5.0
421
167
22/2
5
0
400/430
Vario Top
3.67kg
3.71kg
5.5
431
181
2
5
0
430
Fixed Head
3.89kg
3.93kg
6.0
440
195
10
5
0
430
Fixed Head
4.07kg
4.11kg
6.5
458
203
28
5
0
430
Fixed Head
4.28kg
4.32kg
Write a review
Note: HTML is not translated!
Bad
Good