North Sails Windsurfing Sail Ice HD 2012
| | |
| --- | --- |
| Brand: | North Sails |
| Product Code: | Ice HD 2012 |
| Availability: | Out Of Stock |
0 reviews
&nbsp
Write a review
Model: North Sails Ice HD 2012
Type: Worldcup Wave

Information:
At first glance, perhaps you just realise the new design and the more compact appearance - the 2012 edition of our world cup wave sail has made a big step forward to get the maximum out of any situation and take the victory - even in the most critical conditions!

The ICE HD model is the version of Ice with ultimate durability in the most brutal of conditions: in monofilm-free, hardcore X.PLY version!

New for the model:
- Numerous changes are hidden in detail. E.g. the shorter luff has a very positive effect. Everything feels more compact and at the same time more neutral making the ICE easier than ever to handle. The handling has improved significantly, without loosing any planing power of its predecessor thanks to a modified luff curve and optimised profile distribution. It is unbelievable how just a few centimetres can make such a change!
- The sail weight is decreased by 10%! Working best on single-fin boards, the ICE was designed for all World Cup spots. It functions equally well from Ho'okipa to Sylt, to Gran Canaria or at your favourite spot. All ICE sizes were designed for RDM masts, but are still compatible with our SDM masts. That's why the new ICE feels softer and can be easily controlled and pumped onto the plane. These abilities are also supported by the modified luff curve and the optimised leech tension.
- In addition, key success factors were obtained for the ICE. E.g. the unique base geometry, which will lower the center of gravity making the sail neutral. Or the impressive performance over a very wide wind range and the instantaneous reaction. This is the result of the iMODULAR.DESIGN.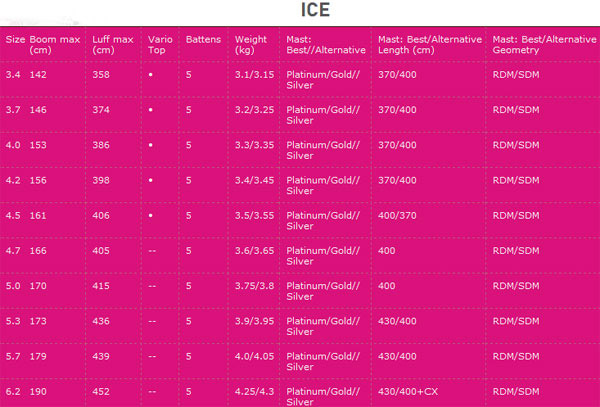 Write a review
Note: HTML is not translated!
Bad
Good