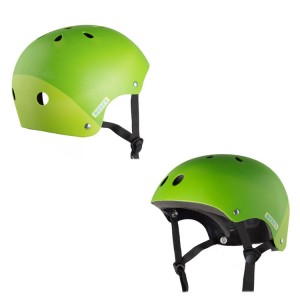 Ion Helmet Hardcap 2.0 2014
| | |
| --- | --- |
| Brand: | ION |
| Product Code: | Ion Helmet Hardcap 2.0 2014 |
| Availability: | In Stock |
Price: 49.99€
0 reviews
&nbsp
Write a review
Model: Ion Helmet Hardcap 2.0 2014
Type: Kitesurfing / Wakeboarding
Color: Green
Code: 48130-8170

Information:
Helmet for kiteboarding, windsurfing and wakeboarding. Suitable for all types of water based activities.

ION Hardcap 2.0 Wake helmets have high-density polyethylene shells for durability and lycra water-resistant lining for multiple impact protection.
The shell of the ION Hardcap Wake helmet has vents for air and water flow. The ION Hardcap Wake features removable Cupping Ear Guards with water channels and padding around the ears to improve ear protection. The ear pieces are removable using simple popper attachments.
Stainless steel rivets and soft tubular webbing complete the quintessential package.
ION Hardcap Wake Helmet features a patented multi-impact helmet technology that is ideal for the aggressive riding style of action sports athletes.
Construction:
- Dual Density Waterproof EVA: lightweight and waterproof - meets CE EN 1385 Water Sports Safety Standards.
- Cupping Ear Guards: removeable Cupping Ear Guards with padding around the ear to help prevent riders from blowing out their ear drums when they hit the water at high speeds.
- Full Surround Interior Fit System: dual-density EVA interior covering the inside of the shell. Portions of the shell are cut thicker to cushion around the crown of the head
Features:
- High density injection molded ABS
- Dual Density Waterproof EVA
- Lycra Molded Interior
- Magentic Strap Clip or easy adjustment
- Open vents for ventilation and drainage
- Full surround interior
- Removable cupping ear guards with water channels
- CE EN 1385 Water Sport Safety Standard
- Rivet and sewn retention for maximum strength and durability
The ION Hardcap Wake 2.0 helmet is a vented multi sport helmet with an EVA Foam lining suitable for all water kiting activities.
Technology: The ION Hardcap 2.0 Wake EVA helmets are low profile and light in weight. EVA liner meets the industry standard for water sports safety standards.
Sizes:
S: (51-54cm)
M: (55-56cm)
L: (57-58cm)
XL: (59-60cm)
XXL: (61-62cm)
Write a review
Note: HTML is not translated!
Bad
Good