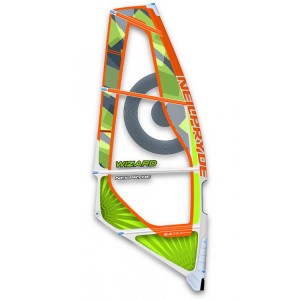 Neil Pryde Windsurfing Sail Wizard 2015
| | |
| --- | --- |
| Brand: | Neilpryde |
| Product Code: | Wizard 2015 |
| Availability: | In Stock |
0 reviews
&nbsp
Write a review
Model: Neil Pryde Windsurfing Sail Wizard 2015
Type: Freestyle

Information:
The Wizard is the ultimate new school freestyle sail. Delivering more direct drive and a high level of lift, this sail planes instantly and has silky smooth handling.
Early planing, stability and balanced feel during tricks are the key requirements for a freestyle sail and the Wizard has it all. Plenty of air and more pop than ever.
Tetoron luff-panel combined with a narrow sleeve allow the sail to transition from neutral to maximum lift in the shortest time.
Four battens up to 5.7 keep the sail weight to a minimum for optimum performance.
Even shaping throughout the sail body extending all the way to the top makes the Wizard extremely fast planing and gives it instant lift during moves.
Center-oriented profile makes for the best combination of lowend power and control.
Neilpryde used a wider luff panel in order to allow the sail to power up and down to a larger degree and also more instantly.
The leech is a little tighter which promotes power and there?s more support from the battens in the upper body sections that stabilize the sail during maneuvers.
Steven van Broeckhoven : Make sure you rig it correctly, more outhaul and less downhaul than a pure wave sail. I always make sure the leech is only loose between the top two battens retaining the shape and power in the sail which is key for performance freestyle.
Other than that, this sail is simple and easy to get the best out of.
Andy Bubble Chambers: The amount of lift you get from the Wizard during tricks is amazing! I like to rig it with neutral outhaul so the sail is not too flat but also not fully touching the boom. The most lightweight, easy sail I have ever used.
Color: C1-green


Write a review
Note: HTML is not translated!
Bad
Good