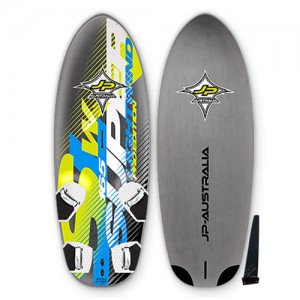 JP Windsurfing Board Super Ligth Wind Pro Edition 2013
| | |
| --- | --- |
| Brand: | JP Australia |
| Product Code: | Super Ligth Wind Pro Edition 2013 |
| Availability: | Out Of Stock |
Price:
1,599.00€
1,375.00€
0 reviews
&nbsp
Write a review
Model: JP Windsurfing Board Super Ligth Wind Pro Edition 2013

Made for everyone who wants to enjoy those lightwind days!!!

Information:
PRO Edition Technology featuring the "race deck" – 90V154,92V165

Planing is what makes windsurfing so fascinating. We all have been sitting on the beach thinking – there is wind but it's just not enough to get planing? Here is our solution.
The Super Lightwinds start planing as early as Formula boards – when there are no white caps in sight. Contrary to Formula boards it is much easier to get in and out the straps. Jibing the Super Lightwinds is also a pleasure compared to any Formula board.
The 90 is basically a bigger brother of the sporty Super Sports aiming at advanced riders.
The 92 is the bigger sibling of the comfortable, but still performance oriented X-Cite Ride. It has additional, further inboard footstrap plugs and works also great for less advanced riders as it gets planing super early even with a passive sailing style. Both are made to have fun in really light winds.

To get the boards easily planing without the special technique of Formula sailors JP made them substantially longer than Formula boards. This also makes the boards more stable in non-planing conditions.
The scoop rocker lines come from our big Slalom boards since they are also developed for high speed runs. As they are not quite as wide as a formula board (100 cm) JP Australia team managed to achieve big handling advantages.
The rail shape in combination with the race deck allows the rider a very comfortable sailing stance. The strap positions come from the Super Sport (SLW90) respectively from the X-Cite Ride (SLW 92) boards.
They jibe easy and stay on the plane through the turn. JP achieved this rather unusual characteristic for such wide boards by using a new Vee flow concept. More V in the mid section of the board where it is wide, makes it easier to rail the board up and initiate the turn.

Towards the tail JP team has reduced the Vee to guarantee maximum control on high speed runs. JP also used big tail cut-outs for better release and a looser feel of the boards. The board shapes in combination with the 56cm molded Carbon fin make them real pleasure boards for reaching.

So the result is:
JP Windsurfing Board Super Ligth Wind Pro Edition 2013 will get you planing in minimal winds and deliver an unknown combination of totally relaxed blasting and an electric sensation of speed. Those sitting on the beach will be jealous. Sheet in and go.
Board
Vol
Lenght
(cm)
Width
(cm)
Weight
Fin DTB
Sail Size
JP Super Ligth Wind Pro Edition 2013
90V154
154
237
90
-
Super Lightwind 56
>7.0m
JP Super Ligth Wind Pro Edition 2013
92V165
165
250
92
-
Super Lightwind 56
>7.0m
Fin shape:
This design is positioned in between a SL and Formula fin.
Wide base and parallel tip for maximum efficiency in light wind.
Top speed is guaranteed because of the thin profile which only the molded technology allows us to use.
Special layup makes the fin perform in a way that we can take advantage of the foiling effect (known form formula fins) and controlled twist for comfortable high speed runs.

This fin is the ideal tool for the SLW boards: - High-performance carbon technology.

Write a review
Note: HTML is not translated!
Bad
Good