Neil Pryde Windsurfing Sail Atlas 2013
| | |
| --- | --- |
| Brand: | Neilpryde |
| Product Code: | Atlas 2013 |
| Availability: | Out Of Stock |
0 reviews
&nbsp
Write a review
Model: Neil Pryde Windsurfing Sail Atlas 2013
Type: Freewave

Atlas gives power and stability with constant drive, allowing it to be used in a large wind range and variety of conditions. It gets planing quickly and has the best drive a wave sail can offer. Atlas is perfect for going upwind, pushing through breaking waves, lift for high jumps and accelerating quickly.

Main Points
- Higher draft distribution, combined with a deep profile, generates power and maximum upwind performance in onshore conditions.
- Higher leech tension, allowing the sail to power up quickly in minimal wind conditions by holding some power in the head.
- Progressive twist, for optimum response and constant drive, while being able to release any excessive pressure.
- Rider focused centre of effort: Perfectly balanced power to ensure profile stability and control.

New for the model:
By concentrating the battens even lower down, we were able to keep the power and drive that characterise the Atlas while making the sail feel significantly lighter.

The Atlas has three main construction features, each explained below.

- Forceline™: 2012 Sails saw the introduction of high strength Dyneema® yarns into our sails as part of our ArmourWeb material platform. In 2013, we advance further into the future of sail construction by incorporating tack and clew reinforcements into the sail body itself. We no longer use layer after layer of heavy, non-structural Dacron materials to build up the corners but rather each tack and clew corner is now a structural laminated panel, full of overlaid, radiating Kevlar™ and polyester yarns that seamlessly absorb and disperse loads into the body of the sail. These panels are stitch free, laminated under heat and pressure and replicate the technology being used in high-end yachting sail programs to align the load bearing yarns in the same direction as the load path that the sail corners experience. The result is stronger sails, less stretch in key areas and industry leading load absorption and dispersal patterns. Combined with our ArmourWeb materials, these structural threadline corner panels elevate the 2013 collection away from traditional assembly and construction methods and into a new era of advanced technological materials – all unique to NeilPryde.
- Armourweb- ArmourWeb is constructed from full polyester yarns layered in four directions (+/- 40 degrees + 90 and 180 degrees) creating an interlaced, woven web for high tear resistance.
- Twin Seams- Twice the muscle and twice the endurance. Double stitching is now used on all critical seams on all sails allowing them to endure prolonged exposure to high loads and impacts.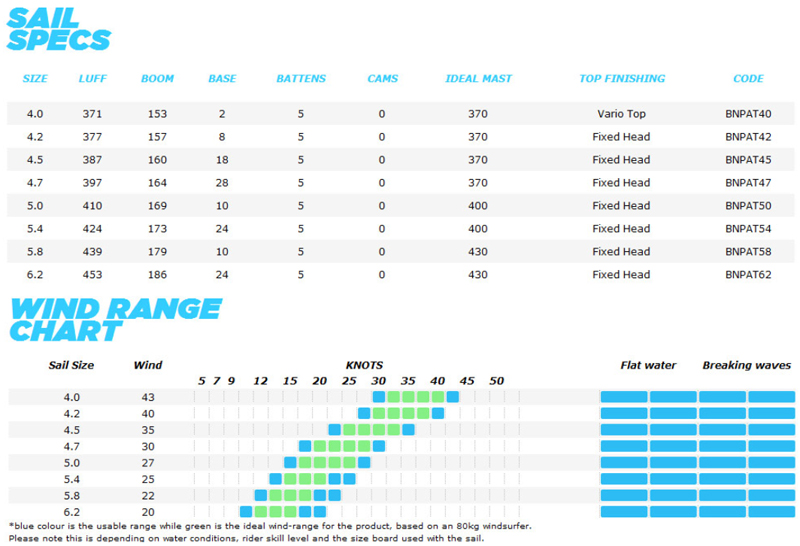 Write a review
Note: HTML is not translated!
Bad
Good