Fanatic Windsurfing Board Hawk Bamboo 2014
| | |
| --- | --- |
| Brand: | Fanatic |
| Product Code: | Hawk Bamboo 2014 |
| Availability: | Out Of Stock |
13400-1007
0 reviews
&nbsp
Write a review
Model: Fanatic Windsurfing Board Hawk Bamboo 2014
Type: Freecarve

The Bamboo Sandwich Light technology is a combination of top quality and intelligent layup specifications, Bamboo Sandwich and Glass/Wood reinforcements. This unique construction offers extremely competitive weights at value prices. Used for the Hawk and Gecko models, with the clear visible Bamboo material in the deck.
Speed, power, and pure Windsurfing thrill. When something works, it's best not to fix it. This pedigreed predator redefined the Freeride category in 2013 and will continue to wow testers in 2014. The 97, 111, 125 and 135 liter Hawks are derived from our best Freestyle and Slalom shapes, for a unique blend of jibing perfection, early planing and top-end speed that holds a place in any windsurfer's dream quiver.
Refined fast rocker lines with tuned tail release – most noticeably on the 97 – on wider compact shapes with thin, tucked-under edges make for perfect all-rounders that don't catch rails in carving or sliding moves. Comfy deck doming in the tail and strap areas as well as a recessed deck guarantee you're always in control in flat water, swell or chop.
All sizes are offered in either eco-friendly and durable Bamboo Sandwich Light or ultra-stiff, lightweight and impact-resistant Carbon Innegra/Basalt Sandwich Light LTD construction. The LTD construction features environment-friendly Cork-Sandwich technology on the deck and the high-tech Basalt Cloth on the board base, creating one of the most responsive rides around. For extra weight-savings, the LTD edition features our Light Finish look, in which board colour is mixed into the resin. From the esteemed testers of Planchemag: "This board flies over the water and offers lots of acceleration. Free under the feet and very exhilarating in light to medium winds once you are planing!" No matter what kind of windsurfer you are, you'll love your ride on the Hawk.
Key Features:
- One-length concept compact shapes with wide center point and round nose for balance, early-planing and smooth carves (does not apply to the 97)
- Innegra replaces Kevlar for ultra-stiff, impact resistant and light layup using less wetted resin for ecological sensitivity
- Thin, tucked rails for ultimate carving pleasure
- Double concave nose entry section runs to Power V bottom, tuned tail kick and 75° pintail for comfort and control in chop and turns
Fanatic's CAD Master Shaper Sebastian Wenzel about the Hawk:
"Speed, performance, control and maneuverability – these are the attributes of the Hawk. I enjoy the fast and effortless ride of this board. Being comfortably in full control is what I look for when blasting down the strip. On top of that the jibes are so much fun and easy. That's why I enjoy the Hawk so much. Catch me, if you can!"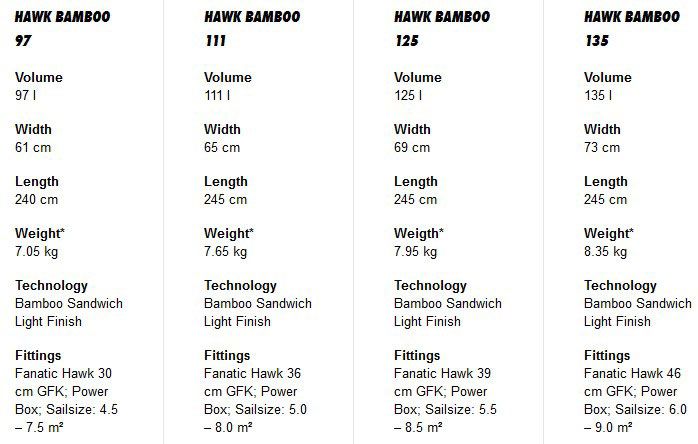 Write a review
Note: HTML is not translated!
Bad
Good