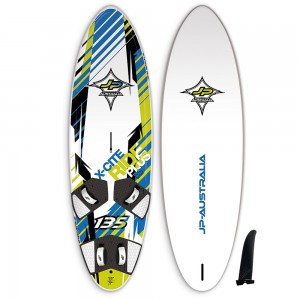 JP Australia Windsurfing Board X-Cite Plus ES 2014
| | |
| --- | --- |
| Brand: | JP Australia |
| Product Code: | X-Cite Plus ES 2014 |
| Availability: | In Stock |
0 reviews
&nbsp
Write a review
Model: JP Australia Windsurfing Board X-Cite Plus ES 2014

MORE SPORTY – MORE X-CITEMENT
EPOXY SANDWICH Technology 125, 135, 145, 160
Five generations of X-Cite Ride shapes left a big footprint on the market. The name X-Cite Ride became a trademark for comfortable and sporty freeriding. Outstanding test reports have confirmed this. The new range still follows the basic concept. With the introduction of the new super easy Magic Ride boards we decided to slightly re-position the X-Cite Rides and to take them to the next level of sportiness. So the PLUS in the name stands for improved overall performance and for the fact that Generation 6 is sportier than ever whilst still being easy to handle.
New shape: They merge easy sailing on a stable platform with an exciting riding sensation, performance and maneuverability. We have made the boards a bit wider with a more parallel outline in the midsection. This results in a bigger planing surface lifting the board up onto the plane quickly and effortlessly. It also improves the stability when tacking or non-planing.
The tuned bottom curve allows the board to release easily creating the exciting feeling, stunning riding sensation and the increased sportiness. The new boards outperform their predecessors in all these aspects as well as being faster. Proven shape features such as the double concave front and mid section in combination with a soft tuck line provides the comfort expected from an X-Cite Ride.
Werner optimized the deck radius for a more comfortable stance and the thick foot pads complete the comfort package. Towards the tail the new outline is pulled-in a bit more. This additional curve at the tail helps to improve the maneuverability. Once the rail is set it carves a smooth stable arc, keeping plenty of speed for the jibe exit. The fin powers up quickly letting the board fly over chop and offers enormous performance. The new G10 fin that comes with the Pro Edition boards provides additional control.
Summary: Sporty, fast and lively, these new freeride boards are re-designed for more performance and still preserve all of the proven X-Cite Ride attributes like easy riding and control. PLUS, they are very exciting and fun to ride, jibe and carve. Already X-Cited? Jump on the new boards and feel the performance PLUS!
Specifications
X-Cite Ride Plus
Length
cm / inch
Width
cm / inch
Volume
liters
W. PRO
+/-6%
kg / lbs
W. FWS
+/-6%
kg / lbs
W. ES
+/-6%
kg / lbs
Fins
PRO
Fins
FWS / ES / FAMILY
Shaper
Sails
125
250
8'2"
69
27.2"
125
7.1
15.7
7.8
17.2
8.6
19.0
Ride 40 G10 (PB)
Freeride 40 (PB)
Gnigler
ideal: 5.7-8.0
rec.:5.5-8.5
135
250
8'2"
73
28.7"
135
7.5
16.5
8.2
18.1
9.0
19.8
Ride 44 G10 (PB)
Freeride 44 (PB)
Gnigler
ideal: 6.0-8.5
rec.:5.7-9.5
145
252
8'3"
77
30.4"
145
8.0
17.6
8.7
19.2
9.5
20.9
Ride 48 G10 (PB)
Freeride 48 (PB)
Gnigler
ideal: 6.5-9.5
rec.:6.0-10
160
253
8'4"
78
30.7"
160
-
9.2
20.3
10.0
22.0
-
Freeride 52 (PB)
Gnigler
ideal: >7.0
rec.:>6.5
Family 145
252
8'3"
77
30.4"
145
-
-
10.6
23.4
(ES+EVA)
-
Freeride 48
+ Fun 34 (PB)
Gnigler
ideal: 1.5-9.5
rec.:>10
Write a review
Note: HTML is not translated!
Bad
Good