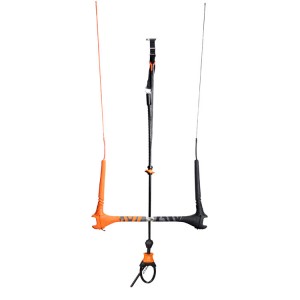 Overdrive Recoil 2017 Cabrinha Bar
| | |
| --- | --- |
| Brand: | Cabrinha |
| Product Code: | Cabrinha Overdrive Recoil Bar 2017 |
| Availability: | In Stock |
Price: 544.99€
0 reviews
&nbsp
Write a review
Model: Overdrive Recoil 2017 Cabrinha Bar
Available with Fireball or Quickloop
Information:
Our premium adjustable control system can quickly change the length of your bar from 48cm to 56cm. The Overdrive mode increases the turning speed and performance of any kite large or small. The recoil trim adjusters keep your trim in the same position every time. Even after you've depowered your kite, Recoil will return the trim adjusters to the exact same position for easy operation. The spring has been extended and is now closer to the rider on all bars. The Overdrive 1X control system features our 1x security system and is available with the Fireball or QuickLoop connection methods. Both methods meet our stringent quality standards that you've come to expect. Each one is built for specific functions, the utmost being whether you ride hooked in or predominantly unhooked.
Features:
Recoil
» Keeps your trim adjuster within reach and always in the same position
» Largest amount of depower available
» Easy to use
Overdrive
» Maximum turning speed available with 8cm of adjustment on the fly
» Comfortable midsize grip
» Two Piece Spinning handle
Fireball
» Focuses the pull of the kite directly to your core for ultimate control
» Ridiculously easy 1X security activation and reconnection
» Non-binding, non-restrictive for fluid motion
» Integrated natural swivel
» Interactive non-binding auto locking gate
Quickloop
» Simple 1X security activation and reset
» Removable centralized security pin
» Works great for unhooked maneuvers
» Quick and easy QR operation

» 4cm of bar length adjustment on each side
» Fireball Spreader Bar sold separately
» Multi-bore, Internalized lines
» Also available with QuickLoop™
» New stainless center fitting
» Low V connection
» Precise trim management
» Recoil depower springs
» Ergonomic curves
» Floating bar ends
» Trim handles
» Overdrive
» Short leash included (52cm)

Write a review
Note: HTML is not translated!
Bad
Good