Burner 2017 Carved Customs Surfboard
| | |
| --- | --- |
| Brand: | Carved |
| Product Code: | Burner Carved Surfboard |
| Availability: | Pre-Order |
Price: 0.00€
0 reviews
&nbsp
Write a review
Model: Burner Carved Wave Kiteboard - Pre-Order
Type: Surf | Wave
Sizes: 5'10" | 6'0" | 6'2"

Information:
The board's distinctive rocker and classic short-board design works equally well in chaotic wind driven waves or butter smooth reef waves. Its medium width smoothes out the chop and cuts through rough shore break. The moderate tail rocker and slightly increased volume in both the nose and tail give the Burner its speed which it holds through the lulls. The rails are soft in the middle and sharp at the tail for hard cutbacks, slashy turns, and big whoo hoos.
Burner - Classic Surfboard Construction
There is a rationale why pro surfers prefer classic PU board construction. It just feels better. The softer, more forgiving ride is as close as you are going to get to the original surf feel of PU surfboards. Its multi-layered, specialized fiberglass and hi-tech resin form the top coat.
Features:
Hand Made in Germany » From our master craftsmen's hands to yours.
ShortBoard Shape » Optimal for all waves.
Blunt Nose » Safer in the water and in the bag.
Continous Stringer » Strong yet flexible vertical wood stringer from tip to tail.
Glass Coat » Trust glass for a classic surfboard feel.
Active Foam Core » Closed cell foam with superior flex.
Thruster Fin Setup » Loose, fun, and original.
Original FCS II Fins » The standard for "no tool" fin removal.

Delivery includes: Burner board is sold with a FCS II fin set.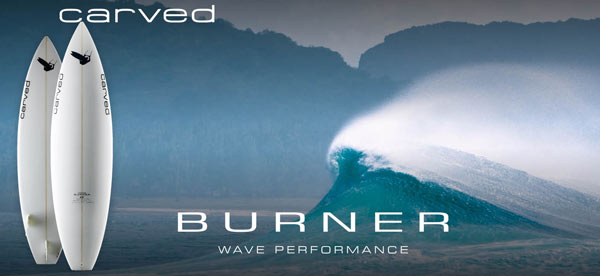 Burner Carved - Wave Performance
Write a review
Note: HTML is not translated!
Bad
Good