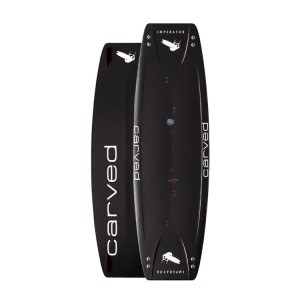 Imperator 6 Carved Customs Kiteboard
| | |
| --- | --- |
| Brand: | Carved |
| Product Code: | Imperator6 Carved Kiteboard |
| Availability: | In Stock |
Price: 1,248.99€
0 reviews
&nbsp
Write a review
Model: Imperator 6 Carved Kiteboard
Type: Freeride | Freestyle
Sizes: 133 x 40 | 135 x 41 | 137 x 42 | 139 x 42.5 | 141 x 43 | lightwind 145 x 44 | lightwind 151 x 45 | lightwind 157 x 49

Information:
Don't compromise. Ride the freeride board that set the standard all others are measured against. Because, sooner or later, you will appreciate the workmanship, technology, performance and soul that goes into every handmade Imperator VI Edition. Meet the board that would make Bernoulli and Coanda proud. A board that masters fluid dynamics to smooth out unruly chop, carve stylish turns, and inspire. Although stunning on the surface, the real beauty remains hidden below. The unique Cartan® carbon unibody construction is a masterstroke in production technology. Carved makes a light wind version of the Imperator 6 that has a flatter rocker, wider tail block and a rail shape that is optimized for light winds.
CARTAN Carbon » The wood core is encapsulated with our proprietary, tight weave, low resin, 30° biaxial carbon fiber weave that optimizes board torsion and dynamic longitudinal flex.
UNIBODY » 100% Cartan® carbon fiber envelopes a heart of Paulownia to create a unibody prodigy.
UV GUARD » Two additives are used for maximum UV protection. The surface and resin have special UV blocking additives to double the protection on your investment.


Features:
Handmade In Germany» Only the finest material and build quality.
3D Wood Core» Hand selected, marine grade, Paulownia wood core.
Tuched 3D Rails» The "round rail with a corner" improves drag.
Razor G10 Fins» Individual custom shapes for each board.
Elliptic Flex Tips» Optimized tip flex for more control.
Double Concave» Channels water for more speed and drive.
Lightweight» Strength and power without added weight.
Center Keel» Cuts through undesirable chop.
Cartan Carbon» Proprietary flex control.
Unibody» One piece carbon fiber layup.
UV Guard» Doubled UV protection.

Delivery includes:
Board is sold with a Razor G10 fin set, V4A fin screws, board handle and handle screw set.



Unboxing Video
Imperator VI Carved - Handcrafted Hightech. Ride. A masterpiece.
Write a review
Note: HTML is not translated!
Bad
Good