Radar 2017 Cabrinha Kite
| | |
| --- | --- |
| Brand: | Cabrinha |
| Product Code: | Cabrinha Radar Kite 2017 |
| Availability: | In Stock |
Price: 895.99€
0 reviews
&nbsp
Write a review
Model: Radar 2017 Cabrinha Kite
Type: Versatile Freeride | Ease Of Use

Information:
The Radar is a fun and lively three strut kite, combining sophisticated performance with unadulterated simplicity. Its blend of function and versatility make this kite perfect for just about any riding style. The high sweep and low aspect ratio make the kite ultra-responsive and great for downloops. It provides immediate response with just about any input given to the control system. A simple bridle and thinned profiles keep the power in check, while still providing all the power you'll want or need. It has a well-balanced, full body, and swept wings which make the kite shockingly easy to relaunch. The generously curved leading edge makes the kite roll into the relaunch position with very little input from the rider. The Radar excels as a crossover kite, making progress easy, whether you're into freeride, freestyle, or powered up surf.

Specifications:
3 Strut, Hybrid design, Fusion wing tip design, Curved LE

Features:
» Ultra responsive and easy to turn
» Consistent and stable pull
» Amazing relaunch
» Light bar pressure
» Progress made easy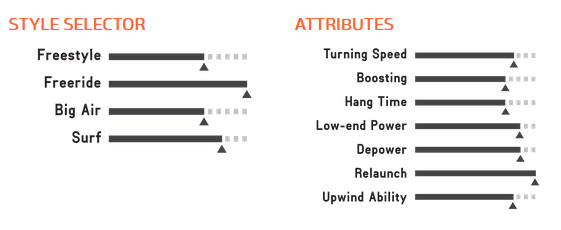 Sizes: 3.5 | 5| 7 | 9 | 10 | 12 | 14
Radar 2017 Cabrinha - The Radar is for riders who want a lively, easy to use kite with incredible relaunch capabilities, that easily crosses over from freeride to surf.
Write a review
Note: HTML is not translated!
Bad
Good