Religion MK7 2017 RRD Kite
| | |
| --- | --- |
| Brand: | RRD |
| Product Code: | Religion MK7 RRD Kite 2017 |
| Availability: | In Stock |

0 reviews
&nbsp
Write a review
Model: Religion MKVII 2017 RRD Kite
Size: 4 | 5 | 6 | 7 | 8 | 9 | 10,5 | 12

Information:
The new completely redesigned tips allowed us to increase the responsiveness of the kite and create better sensitivity from the bar. Another major change is the reintroduction of the adjustable bridles. The bridles can be easily adjusted for a side-shore or an on-shore wind by moving the position of the bridle between two points. The new adjustments allows the possibility to change the pressure on the bar, the speed of rotation and position of the kite in the wind window.
Another strength of the Religion is the super reinforced construction that has always characterized this kite. The new graphics have allowed us to create a new web of reinforcements of Dacron on the canopy that give the whole structure of the kite an incomparable rigidity. A true bullet proof construction that makes the body construction between 40% heavy duty Dacron fabrics and 60% lightweight canopy. A unique mix used only in the Religion kites which creates superior crash resistance and extends the lifespan of the kite.
The new kite Religion MK7 allows for a bigger range of use both on the high and low end of the kite. More power, better lift during jumps, and an enormous progressive de-power that will stop the kite power exactly when you need it. Simply put, this kite is a throttle in your hands. Gearing up your rides when you need power and completely depowering the kite while you are on the wave, the Religion is the perfect wave kite.Since its first introduction, this kite has changed in every version together with the evolution of riding waves with a kite. If the ocean is your church, then look no further than the Religion.

Features:
» V-TIP design back line attachment. This specially designed panel and heavy duty construction allow a better load spread on this hi stressed area
» Exclusive Strut/Leading edge reinforcement panel sawn at 45 degrees: this spreads the impact loads on a wider area (only on bigger sizes)
» sizes 8-7-6-5-4 have the classic wider wingtip design of the Religion kites and are designed to perform better in medium or strong winds
» Internal extra reinforcements on every leading edge panel, to secure long lasting stitching & a rigid connection
» sizes 9-10,5 and 12 have a different wingtip design and lighter construction to perform better in light winds
» New Sideshore/Onshore bridle attachment points to trim the kite according to specific conditions
» Quick Air Flow Valve for easier pumping and deflating, with special moulded protection cap
» Bullet proof construction creating a strong structural frame with dacron fabric
» 3 struts design body to save weight and improve handling
» Radial reinforcements on the tips to improve durability
» Tips equipped with bridle anti-tangle device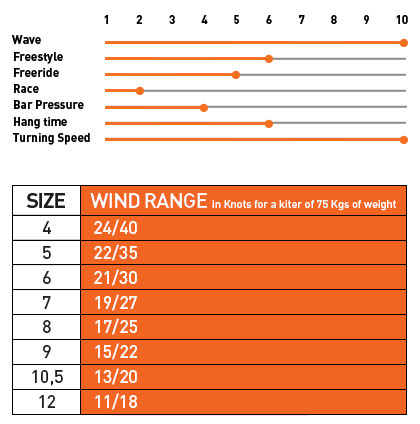 RRD Religion 2017 MKVII - Read waves, not slogans!


Write a review
Note: HTML is not translated!
Bad
Good