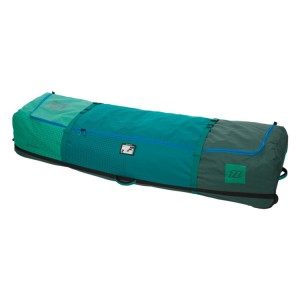 Team Bag 2017 North Kiteboarding
Price: 248.99€
0 reviews
&nbsp
Write a review
Model:
Team Bag 2017 North Kiteboarding
Color: Pop
Information:
The Team Bag 2017 is combining the assets of the Combibag and Quiverbag. It is made from extra tough material to withstand the countless miles of team riders travelling around the world. The bag has a removable custom-padding inlay that encloses the boards for maximum protection. The inlay can be removed to save weight. The inside is divided into one big compartment, a smaller fin/screw pocket integrated in the top cover and a removable accessory bag. A plastic plate reinforcement at the nose and tail gives extra protection to these sensitive areas. The front handle can be opened with a buckle to attach the bag to e.g. an airport trolley.

Features:
» Twin tips up to 163 cm and Surfboards up to 5'6"
» L 170 x W 55 x H 32 cm (outside dimensions)
» Weight: 5,6 kg or 4,3 kg without Padding
» Colorways: Pop
Write a review
Note: HTML is not translated!
Bad
Good