Strike Amp Semidry 5,5/4,5 DL 2017 Men Ion Wetsuit
| | |
| --- | --- |
| Brand: | ION |
| Product Code: | Strike Amp Semidry 5,5/4,5 DL 2017 Men |
| Availability: | Out Of Stock |
0 reviews
&nbsp
Write a review
Model: Ion Strike Amp Semidry 5,5/4,5 DL 2017 Men
Type: Semidry
Color: blue/red
Code: 48702-4406

Information:

Key Features:
- Warm - Strike Amp: Hot_Stuff lining, Seal_Tite and Water_Gate_3D technology.
- Maki_Tape - Wetsuits: 100% neo tape sealed on the inside for superb flex and water resistance
- Prize Protection - Strike Amp: Crash_Padz at the shins and ribs.
- Optimum Flex - Strike Amp: Reduced panel layout, Ninja_Knee and Ninja_Spine construction.
Line Concept: The Amp level represents exceptional performance especially in terms of stretch. The Ninja_Knee construction is primarily supported by the new and thinner Maki_Tape2.0 The Ninja_Spine between the stiffer back panel and the buttock gives freedom for upper body moment whilst protected by the harness. The tasty mélange fabric stands out with its unique colour combinations.

Target Group: The cool cats looking to stand out from the crowds and showcase their rad riding skills.
Inside View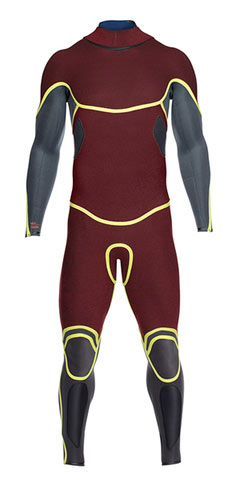 New:
- Overall upgrade for the Amp level, now made fully from Cyber Stretch 130%
- Abrasion resistant Supra_Tex knee panels
Sanitized: Sanitized® is a certified antibacterial fabric with active biocidal substance: zinc pyrithion treatment to prevent bad odor from bacteria, mildew etc. in moist or sweaty environments. This function is permanently integrated in selected ION items such as premium wetsuits, boots and shoes.
Features & Materials:
- Maki_Tape
- Ninja_Knees
- Ninja_Spine
- Seal_Tite
- Water_Gate_3D
- Seam_Reinforcements
- Contour_Cut
- Drain_Holes
- Sunglass_Loop
- Internal Key_Pocket
- Supra_Tex
- Ninja_Knee
- Ninja_Spine
- Crash_Padz
- Hot_Stuff
Maki_Tape: Maki_Tape is the made out of Cyber_Stretch 130% Neoprene and thus not limiting at all. At Amp Level suits, it seals every inch of each seam for incredible sealing against water without limiting stretch, wheres you'll find it in other levels at isolated areas for improved sealing or reinforcement.
Write a review
Note: HTML is not translated!
Bad
Good